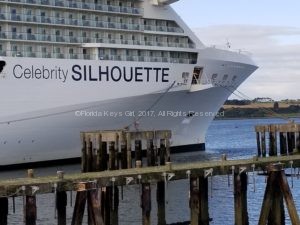 Boarding the Celebrity Silhouette in Amsterdam was a bit hectic. But once we dropped luggage and waited in a short check-in line, we made our way through security, customs, and onto the ship. Being pushed and shoved through the Van Gogh museum that morning was unpleasant, to say the least. Seeing familiar faces in both Michael's Club and Luminae, was the best possible way to start the cruise.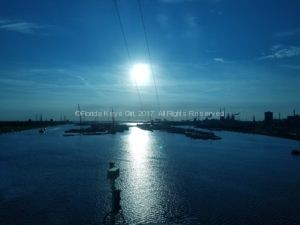 We endeared ourselves to the crew (by "endeared" I mean "shouted with glee at seeing them again and then challenging the sommelier to find new and interesting wines") we enjoyed a civilized lunch and settled in for what was certainly going to be a fantastic cruise.
The Sky Suite
Our deck 11 aft Sky Suite afforded us a fabulous view from the back of the ship. Sky suites boast an ample 300 square feet of comfort, with a beautiful, storage-filled bathroom and a combination tub/shower. When our luggage arrived, we unpacked quickly. The Sunset Bar was the first stop for views, cocktails, and strolling around barefoot in the grass. This ship, like all Celebrity Solstice-class ships, has a beautiful lawn atop the ship. It's a perfect place to sunbathe (in the Caribbean), enjoy a beverage, or lounge in a hammock.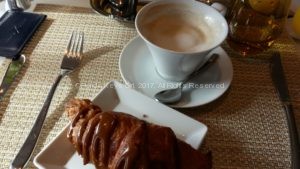 We took full advantage of our very first sea day to relax. After four days of walking around London, clocking a minimum of eight miles a day on foot, and another two days strolling around Amsterdam, vacation was proving exhausting.
The first port on our Celebrity Cruise brought us to Inverness. It seemed a good idea to skip over Loch Ness and the storied monster in favor of sure things: castles and whisky. Our concierge warned us that getting off the ship may take a long time, as the crew would be collecting passports, so I moved up our meeting time by an hour. The crowd was not pleased about the 7:30 AM meet up, but I was not risking waiting in a long line, especially with a group of eleven.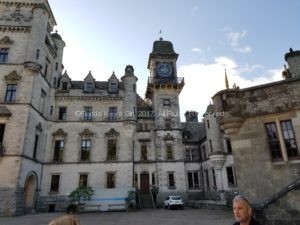 Inverness, Scotland: Dunrobin Castle
As it turned out, it took us about thirty-two seconds to get off the ship, as there was no passport collection and no line, and so we were off and ready nearly an hour before we were supposed to meet our driver. The British are known for always being early, and luckily for us, we found our bus and headed straight to Dunrobin Castle. Our efficiency was, perhaps, a bit much, as we arrived at a castle that was not yet open.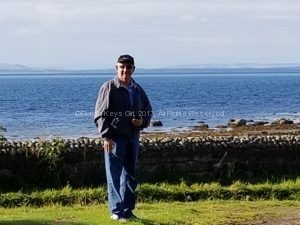 The adventurous among us moseyed down a steep trail to the water. Others lingered around the lovely grounds. I headed off in search of wifi, as I had not printed our advance purchased tickets. After rectifying the near-debacle with a printer in the office, complete with stunning views, we were able to head inside before the hordes aboard large tour buses arrived.
This would be a theme for our trip, and really for all of my life: Get places before the crowds. We mostly succeeded.
A self-guided tour easily managed through the beautiful castle. The grounds are expansive. While we did not hang around for the falconry exhibit (apparently that is a thing), we did stop and peek into the museum. Less "museum" and more "giant hall filled with dead, stuffed animals", one quick peek was all I needed to know I wouldn't linger.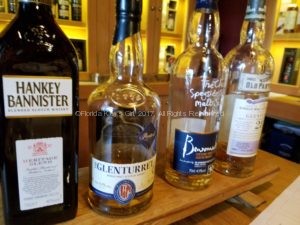 Dornoch, Scotland
We finished with our visit just as the huge tour buses arrived, so we moved on to an unexpected stop: Dornoch. It is a lovely little town. It would be even lovelier on a day other than Sunday when shops are open. A few closed signs did not deter us, and we moseyed into the open liquor store, Carnegie Whisky Cellars. It was not long before I spotted a sign advertising Scotch tastings. Though we only had ninety minutes in town, I wanted to know if we could do a private Scotch tasting.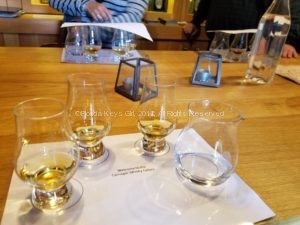 "When would you like to do this?" they asked, not quite knowing what to do with my answer of "NOW. We only have an hour. And there will be nine of us." I was very charming, and they happily obliged.
I herded the group into the back room of the shop, where they were all set up for us. Each place was set up with Scotch that would be tasted blind, maps, and information was a hint of the wonderful experience we would enjoy. Here I learned why ice in Scotch is a faux pas. Instead, gently add water to enhance the flavor. The tasting was a highly educational hour.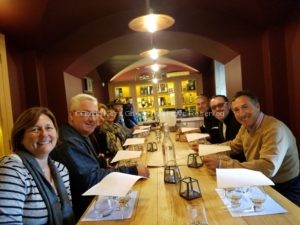 Eleven tourists, wandering the streets of a tiny, mostly-closed town in search of lunch, while on a tight schedule, after drinking a bunch of Scotch, was a scene to behold. We found a lunch spot, ordered fish and chips for nearly everyone at the table, and reunited with our driver. Lunch for eleven took a while, and we were a bit later than anticipated. Our tardiness did not impress our punctual British driver but he helped make the best of it. The final stop of the day: Glenmorangie distillery.
Yes, the day went like this: Castle, Whisky, Lunch (with beer), Whisky. What could be better?
Glenmorangie Distillery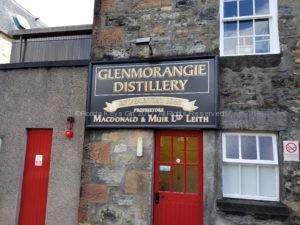 At Glenmorangie, we joined a tour already in progress, because a Whisky tour waits for nobody. After tasting several types earlier that morning, getting a glimpse into entire distilling process was fascinating. It gave me a better understanding of the product.
Post-tour, everyone enjoyed tastes of the finished product. I've become a Scotch drinker in one day. Alas, after the second Scotch tasting of the day, it was time to get back to the stunning Celebrity Silhouette.