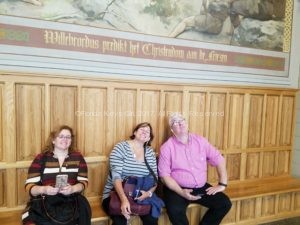 When I have only a short period of time someplace, I like to cram in as much as possible. With that in mind, I was overly optimistic when I told our friends "we'll meet you in the lobby ay 8:30 AM" to stroll over to the Rijksmuseum. Waking up at 8:30 that morning, I sent a quick text that we would meet them there. Soon-ish. And that is how day two of two days in Amsterdam started. 
The Rijksmuseum is vast and worth spending as much time as possible. Once again, get advance tickets and save yourself the wait in a long line.
Pro tip: Entrance tickets to the Rijksmuseum are not timed. You can buy a ticket for the day you want and then go at your leisure. The later you go, the more crowded it gets.
We arrived around 9:30 AM, and we could quickly and easily move through the main halls. After seeing the famous Night Watch by Rembrandt, we meandered through some of the smaller galleries off to the sides. By noon, the crowds were staggering, and I was getting hungry, so it was time for the next stop: lunch.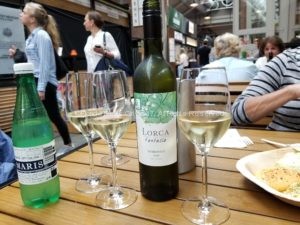 Foodhallen: A food court of sorts
Foodhallen is the best place to go with a crowd. The enormous indoor food court boasts at least twenty stalls selling everything from burgers and salads to Vietnamese food and oysters. At lunchtime it is incredibly crowded, so our party of five found a table and then while FKGuy held down the fort (by "held down the fort" I mean "started drinking the wine") while the rest of us went to get food. We enjoyed an assortment of foods from Mediterranean dips, to spring rolls, a gyro wrap, and of course bitterballen. The typical Dutch snack of little deep fried balls filled with meat hit the spot. We also had some bitterballen filled with spinach, and one with mushrooms. Delish!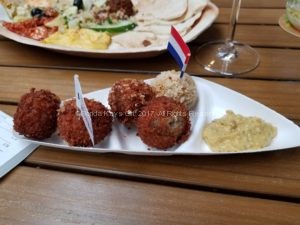 If you haven't found something you like at Foodhallen, you just haven't tried hard enough. Though lines can be long at some stalls, and some are not terribly efficient, the food, overall, was very good, not expensive, and the atmosphere is lively.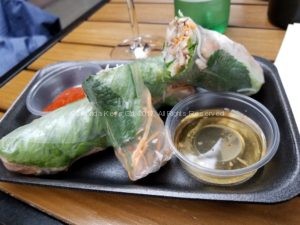 The Nine Streets
Fortified from an assortment of goodies, our friends headed back to the hotel for a rest, and we wandered through the area of Amsterdam known as the nine streets. In the heart of the canal district, these nine little streets are bursting with quaint shops, charming cafes, and people out enjoying them all.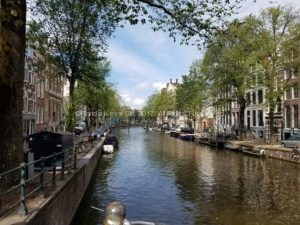 For shopping at something other than global chains, this is a perfect area. We bought a few gifts, both for others and ourselves, and slowly made our way back to the INK hotel. All that artwork, eating and wandering equal the need for a refreshing pre-dinner nap.
Rijsttafel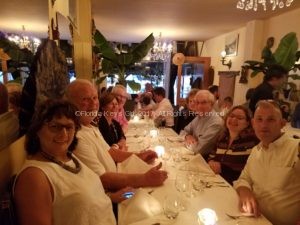 Meaning rice table, rijsttafel is a feast of Indonesian foods. After seeking many suggestions, we settled on Tempo Doeloe, a tiny restaurant featuring the world-famous rijsttafel. Our party of eleven were crammed into a tight space, taking up about a quarter of the restaurant. Starting off calmly with some wine and a tasty chicken soup, things escalated quickly.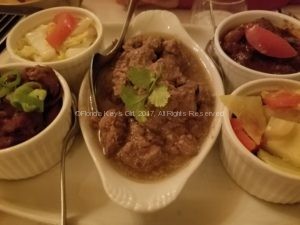 The main event, the rijsttafel, is served and dishes seem to appear out of nowhere. Just when you think there is no more room on the table, more things show up. An assortment of dishes, in ramekin-sized portions, were arranged from mildest to hottest, included plenty of vegetarian options, beef, chicken, seafood, and pork. Each meal was described, and we immediately forgot everything that was said. From there it quickly devolved into tiny dishes being passed from one end to the other, and back again, with different people wanting different dishes. As for me? I wanted to try it all. Well, most of it, anyway.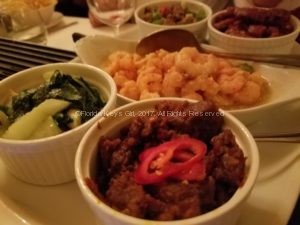 Our group went from calm and easygoing to a deafening mob in moments  – "Pass that chicken!" "Send the mild tofu down here, please!" "Where's that spicy beef?" "Oh my! Too spicy! Where is the mild one?"  – until the food was gone, and we were all too stuffed to pass even one more tiny plate. I wish I could tell you what my favorite dish was, or frankly, what any of them were, but I can tell you this: each plate on its own was marvelous, but all together, they were incredible. Go. Bring your friends. This is one of those meals that is better with a group.
Van Gogh Museum: No return visit for me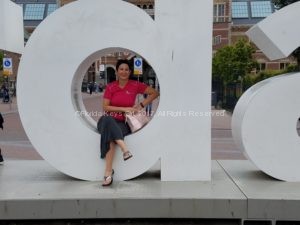 The next morning, (OK so this is technically day three of our two days in Amsterdam,) we woke up ready to go the Van Gogh museum. Unlike the Rijksmuseum, these tickets are timed, and if you are more than half an hour late, you'll be turned away. On this day, we were ready on time, but waiting for friends, stopping for coffee, left us running late. So we walked quickly to the museum, so we could still get in. It was like we were a group of elderly mall walkers, with no time to talk, moving straight towards the museum, all serious-faced and panting.
We got there at 9:28 AM, ensuring our entrance. The friend that came without a ticket left and headed back to get on the ship early since it was clear the line was at least three hours long. I feel like I should have escaped with him. This was the single worst museum experience of my life. The crowds are unbearable, and frankly, after about an hour I had to leave. Strangers touching me, standing too close, and viewing masterpieces with other peoples' heads in the way, makes for a miserable morning.
I love the artwork but despise the space. And the crowds. On my next trip to Amsterdam, I will most certainly revisit the Rijksmuseum, but will unquestionably skip the Van Gogh. I was hot and cranky when we left the museum, but then stopped at the hotel to get our luggage and made our way to the cruise terminal to embark on a 12-night British Isles cruise aboard the fantastic Celebrity Silhouette. The day was improving.