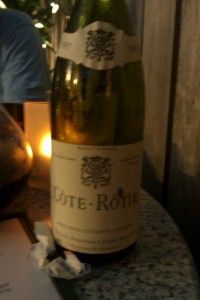 It had been years since I last visited Mangia Mangia on Southard Street. Why it had been so long, I have no idea. Mangia Mangia has one of the best restaurant wine lists around, and most likely the best in Key West (although I think a little more hands-on research is needed here.)
Fantasy Fest weekend in Key West seemed a bit less crowded than I would expect. Hotels and guesthouses had vacancies and restaurants were not terribly crowded. Mangia Mangia, however, was crowded as ever on Sunday night. Why?
I assume it is not only for the good food, but the fact that portions are large (dinner tonight AND lunch tomorrow) and prices are reasonable – no $40 entrees here. Staff is also friendly enough that when I showed up with blisters from my brand new Crocs (which I thought were supposed to be comfortable, but that is another issue) they gladly brought me some band-aids for my sad, aching feet.
As you may now know, we generally will bring wine with us to restaurants. We opted to buy off the list here. The list is extensive. you can have a $22 Albarinho or a $3,000 Bordeaux and pretty much any varietal at many price points in between. We opted for the 1997 Michel Rostaing Cote Rotie, which was quite good and drinking in its peak right now. I do not see this wine improving too much over the long term.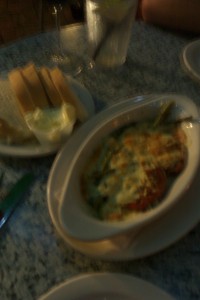 As for the food, we started with an order of the asparagus gratin, which is asparagus and a few tomatoes topped with Gorgonzola cheese and baked. Really, do I need to add anything after the baked Gorgonzola part? I didn't think so. Next I had "pasta with seafood sauce" which they kindly made for me with only fish. There is a choice of tomato or Alfredo sauce. Seeing as how I had just eaten copious amounts of Gorgonzola cheese, I opted for the tomato sauce, and what a good choice it was. Large chunks of fish in a rich tomato sauce over your choice of fresh, homemade pasta (I opted for linguine). It comes with garlic bread, and enough pasta to insure you won't go hungry the next day either.
At our table, we also had an order of pasta with mushrooms, which comes in a sauce of mushrooms, spinach, chickpeas and feta. Although the feta would not have been my first choice for a pairing with the wine, the pasta was quite delicious, and also plentiful. It is a good choice for a lighter sauce and something that you do not see everywhere.
All in all, it was a wonderful meal in the outside garden. We will be returning sooner rather than later, and next time I am trying the pesto with walnuts. Stay tuned.