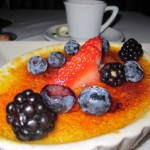 If you have been reading for a while, you know that one of my absolute favorite restaurants, if not THE favorite, is Azur. Why? The food is great, the service is warm and friendly and the atmosphere is inviting. Everyone we have taken there has loved it. (That is quite a few people considering that we had company for about 95% of the weekends through May).
Michael and Drew, the owners, do a great job with everything, especially the gnocchi. You can get it four different ways in either a half or full portion. From goat cheese and beets to porcinis to braised beef there is something in the gnocchi section for everyone. Of course they also have wonderful appetizers (try the salt cod fritters), great salads (I like the Boucheron) and delicious entrees (try the whole roasted Bronzino if they have it).
For the summer, they have $6 lunch specials and various mid-week dinner/wine specials. The one that will really knock your socks off, though, is the $29 three course menu. What is so great about it? First of all, it is any day of the week, even weekends. Second, you can have any three dishes off the menu. Appetizer, salad, entree. Two appetizers and a dessert. Three entrees. Whatever floats your boat. They are served in smaller sized portions, which are still very generous. It is a great opportunity to go and sample the whole menu (over several visits, of course).
Better yet, go with someone else, then you can order six dishes. Our six: Salt cod fritters, Hummus and Babaganoush, Boucheron salad, Swordfish, and creme brulee. Try for yourself and let me know what you think.