Solo American Bistro is the latest incarnation in a spot that has housed numerous other establishments over the years. We finally decided to give it a try at the suggestion of friends, and with the promise that September is 50% off for locals.
First of all, the place is humongous (which was only made more obvious by the fact that it was virtually empty when we were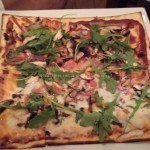 there for dinner.) It is nicely decorated, although not very island-y feeling. There is more of a city feel, with couches and banquettes all along the walls. The bar, which takes up the entire center of the restaurant has more seating than most other restaurants in town.
The wine list is small, but well thought out, with several good and inexpensive options. The menu, however, is a bit all over the place. There were four of us, so we tried a bunch of different items. The flatbread with mixed mushrooms sounded really appealing, but was a let down. It did not have much flavor and the crust was just OK. Tuna tartare, on the other hand, was outstanding, and the ginger chips that came on the side – tiny pieces of fried ginger – were divine. Ceviche (shrimp and scallop) was enjoyed by my friends, and the crab cakes were good as well.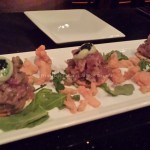 I ordered the whole fried snapper for my entree, which is prepared similarly to the whole fried fish at 915, and I hate to say it (since I am not a huge fan) but 915's fish is better, the fish was crispier and the slaw tangier. Overall, it was just pretty good at Solo. The roast chicken was a huge hit, as was the truffled shrimp mac and cheese (how could it not be, really?) The crab salad special is, apparently, so good that my friend asked them to put it on the regular menu so he could have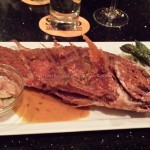 it on a daily basis.
Service at Solo was attentive (but to be fair, the place was empty, so one would hope we had good service). The big question is always would I go back? Yes, I would go, but I am not in any great rush. At half off, it is a fabulous deal.
Solo is located at 610 Greene Street and is open for lunch, dinner and late night drinks and music.