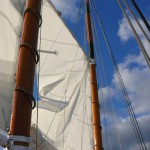 Going out on a boat is really one of the great joys of being in the Florida Keys. Sadly for me, I don't own a boat, so either I need to (a) go on some sort of party boat, (b) charter a boat or (c) find a friend with a boat. Option C will work out eventually (I was angling – pun intended- for an invitation on the boat with said friends just last weekend. Shamelessly, I might add.) Until then, we need to go with option A or B.
Chartering a boat is extremely expensive, and can be upwards of $150 per person for a 4 hour trip. Party boats aren't really my speed, either. I don't really enjoy being on a boat with 50+ people, most of whom just want to get trashed.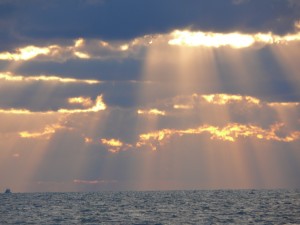 So, this past Sunday, I went on the Adirondack II. This is a lovely sailboat with huge masts and a great crew. There were only about 20 people on board, although they take up to about 40+, so there was plenty of space to move around. They do not serve food, but you may bring your own. They do serve drinks for $1 a piece – Heineken, Corona, Sam Adams, Korbel and sodas. Bottled water is free. This method of charging a minimal amount seems to keep the booze-cruisers away, which is just fine by me.
They have been running a half price special (which you need to know about and ask for, apparently) through November 25. Regular price for the Sunset Sail is $49 per person, and Day sails are $34 per person.
If you are looking for a couple of hours on the water, this is a delightful way to go.