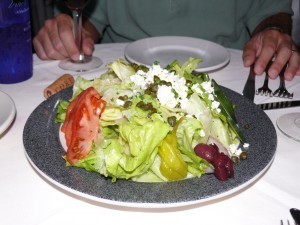 When we were in Spain in 2007, we ate plenty of tapas. It is hard to avoid there, and really, why would you want to? Here, on the other hand, very easy to avoid. I went to Santiago's Bodega with 3 other people, and as they serve small plates, we sampled a lot. Grab a snack, this one is going to take a while. Don't worry, I'll wait.
OK, then. These will also be in a fairly random order, as that is how they came out of the kitchen, much to my dismay. The Greek salad is fairly basic, but lettuce based with the addition of capers to the feta, pepperoncini, tomatoes and cucumbers. It is crisp, flavorful and not overdressed. All good. Plus, I love salad. Pretty much anything with lettuce and dressing is going to work for me. Next we moved on to a tuna ceviche – big chunks of yellowfin tuna, mango, avocado and onion tossed in lime juice, with a bit of hot pepper. Delicious.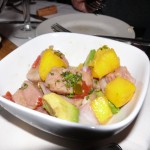 Santiago's does a great job with Saganaki, too. Saganaki is Greek Haloumi cheese, fried (not battered, but pan-fried), topped with brandy and served a-flame. Not only is it fun to get because there is always the chance that someone loses an eyebrow, but fried gooey cheese is, at worst, going to be pretty good. This, on the other hand, is better than at many Greek restaurants. To make it even better, it is served with warm pita bread perfect for scraping the last browned bits from the dish. Yes, I am that person, and if you are not, you are clearly missing out.
Another high point was the last minute addition of the quesadillas to our order. Melted cheese in a corn "tortilla" tasted more like an arepa than any standard quesadilla, but in a non-greasy, can eat it all day kind of way.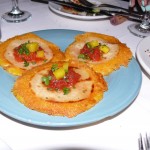 We ate patatas bravas – really hash brown-like potatoes in a tomato sauce. The potatoes stay crispy and the sauce is good. We were licking the bowl. Enough said. We also had the goat cheese tart, which is delicious, and the grouper fillets. The grouper are not so much fillets as they are bites. Bites of blackened goodness. The crust has some herbs and a good amount of fennel, which is surprisingly not overwhelming.
The only downer to the meal were the lamb chops, ordered by my Friend. They came out looking a little sad and gray. As it turned out, they were raw on the inside. Raw. Red. Bloody, and not in a good way.  They were returned to the kitchen, Friend got a new plate of 3 meaty little lamb chops and when I asked how they were all I got were some grunts and the sight of lamb juices dripping down the chin. You can get a mental picture on that one, you're not getting an actual photo.
Well, with all of this food, you must be thinking we were awfully thirsty, right? Santiago's does allow corkage, for $15. Their stemware is pretty bad, but I am not bringing my own, so I am not complaining. We started with a bottle of 2004 Hard Core.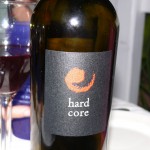 This is a blend of Mourvedre, Grenache, Syrah and Cabernet Sauvignon. This is always a good wine, every vintage, but as we have held on to this for a few years now, it is really singing. This is a wine for wine geeks and regular folks alike. very approachable and interesting, full bodied and well balanced. If you like wine, you should be buying from Core. Check them out, you will not be disappointed. Next up was from another one of our favorite small producers – Nadeau Family Vintners. They are a TINY operation in Paso Robles and make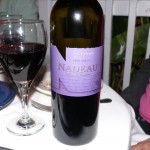 excellent and well priced wines, specializing in zinfandel. We had the 2006 The Epic Zinfandel. Big, bold and a bit raisin-y, and paired very nicely with the assortment of flavors we had going on at this meal.
Santiago's has some service issues (it's not great, although one guy, who may not be there anymore, was quite good). They make you wait at the door to be seated when clearly they should be taking care of you before whatever else, not customer-related thing they are doing. They do not pay attention to "bring the cold tapas first, then we will move on to the hot ones" instruction. But the food is good and service is at least pleasant. As a tourist you may be a little bit put off by the neighborhood, passing the house that looks like a junk yard with a hand painted sign that says "Santiago's One Block", and wondering if you will ever get there, because it looks as if you have passed all possibility of business existing here. But if you make the effort, is worth a visit. Go, and when you are back, let me know what you think.