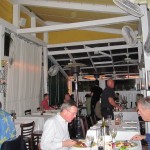 It was a chilly Saturday evening that we decided to dine at Cafe Solé, located at 1029 Southard Street in Key West. Fortunately they are well prepared with heaters, so it was quite comfortable in the garden. You realize, though, that "chilly" to this native Floridian means anywhere from 68 – 72 degrees.
The food: Portabella Soup (it was cold out, and they are famous for it), Caesar salad, Hogfish with roasted red pepper hollandaise sauce (another dish they are famous for) and mangrove snapper with champagne pesto sauce.
The portabella soup was rich, creamy and as you would expect, full of mushroom flavor. The whole peppercorns that topped the soup were both unnecessary and overpowering. The soup itself was delicious. The Caesar salad was served with a Parmesan crisp and anchovies in endive leaves. No matter how hard I try, or how good the anchovy is, I just don't like the hairy little suckers. This is it, I am officially giving up on liking the anchovy. The dressing on the salad was garlicky and delicious.
Next came the entrees. The hogfish was expertly cooked – flaky and tender. It
was well seasoned and the sauce was surprisingly not too heavy. The star of the show, however, was the mangrove snapper. This dish was oven baked to perfection and the pesto crust was full of rich basil flavor. The champagne sauce was another wonderful addition to the dish and did not over-complicate it at all.
We enjoyed a bottle of Villa Creek Willow Cuvee, 2005, which we had brought with us. While most of the wine at other tables was being served in small, crappy glasses, our waiter brought over a set of Reidel stems right away for us. Unfortunately, that is where the good service ended.
When we ordered our entrees, they were specifically ordered without the lima beans side, as they are made with bacon. One entree arrived as ordered. The other had the unordered beans. I was all ready to tell the waiter and have him remove said dish, but he did not reappear for about 20 minutes. Meanwhile, the fish looked good, so I moved the offending beans to a side plate and enjoyed the snapper. When Waiter came back (once we were finished) and asked how everything was, I told him. Waiter's response was to come back and show me where on the ticket he wrote "no beans". I was unimpressed, to say the least.
On our way out, John the owner (while talking to another table) asked how things were. My response: "The food is good, but you have some serious communication issues." John followed us outside where we had a lovely chat. He did explain that sometimes the kitchen staff either does not pay attention or extends their middle finger to what is written down. While I understand his point, and I would eat at the restaurant again, I would rather take my dining dollars to one of the many restaurants without communication problems, where I actually get what I order.