One day I will make it to the Grand Cafe on Duval for dinner. In the meantime, I have been there for lunch a couple of times and it is quite pleasant, if unremarkable. The food is good, the service is good, the menu is a tad on the boring side, in my not-so-humble opinion.
Although it had been raining, by the time we got there, it had mostly stopped, so we chose to sit outside on the porch, thus enabling some good people watching on Duval Street.
The four of us ordered smoked salmon benedict, pictured on the right (which came with some good,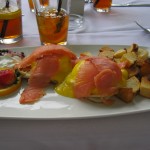 not goopy or overly thick hollandaise sauce); huevos rancheros, pictured above, that comes with a side of very good, spicy salsa; caprese salad that comes with pesto dressing (full of basil and bright green) and syrupy balsamic vinegar – which,  although the tomatoes could have been riper, it was a decent salad; and a grilled chicken sandwich, which there is not too much to say about.
Overall, the Grand Cafe is good. I would go back. However, it is also currently for sale, as is most of Duval Street, so we shall see what happens when a sale actually takes place. Of course, with the $1.8M price tag, it  may take a while.