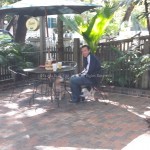 Garbo's Grill has been bought by new owners (a few years ago), and moved to a permanent location (also a few years ago) at Grunt's Bar. The location is fantastic, and is a big win for the Garbo's folks, the people at Grunt's and us, the diners. While Grunt's sells beer and wine, they also have a beautiful garden setting, with plenty of tables and chairs. It is a perfect setting to enjoy a fish taco. Note that Garbo's truck is located at the back end of the Grunt's property, so you'll have to walk around to the back of the bar to get there. It is not easily visible from the street.
The day we went, it was on the early side (around noon) and not too crowded. This is the key. The word is out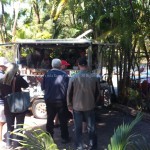 on Garbo's and they are so popular and so tiny that there is often a  30-40 minute wait for food once you have ordered. If you are not starving when you get there, it is no big deal. Just head into the bar for some mimosas while you wait. Of course, we had just finished playing tennis, so we were quite hungry, and decided to try three items: the fish tacos, the shrimp tacos and the Korean beef tacos. Ordering is simple, and we were given a pager for when the food was ready. In our case that was about 15 minutes, which is not too bad for made-to-order yumminess.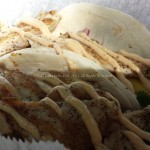 My favorite were the fish tacos. These are big pieces of fresh mahi, with fresh jalapenos, mango slices and cabbage, topped with "Caribbean sauce" which is a super flavorful mayo-based sauce. I have had my fair share of fish tacos in my life (and eat them as often as I can) and these are among the best. Delicious. Of course, everything else was really good, too. The shrimp tacos were stuffed with fresh shrimp. They are called "Yum Yum Shrimp" on the menu, and for good reason. Yum, indeed. In the interest of "research" we also tried the Korean Bulgogi tacos, made with shortrib, sriracha and a healthy dose of deliciousness. These were overstuffed with beef, and outstanding.
Yes, my favorite were the fish tacos, but they were in very good company with the rest of the food. Garbo's also has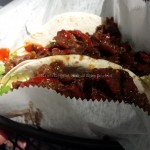 an Umami burger, with bacon and chipotle gouda, as well as two different styles of hot dog. If you haven't been, I would suggest you check them out. Garbo's Grill is located at 409 Caroline Street in Key West, and is open from 11:30 AM – 3PM and 5PM – 9PM most days, but closed on Sunday. Check out their Facebook page for more up to date information.