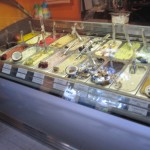 For a while now I have been complaining, rather loudly, to all around me, about the lack of really good ice cream in Key West. Sure there is Haagen Dazs, which is OK, but boooooooooooring. There is Flamingo Crossing, on Duval and Virginia streets, which has serviceable ice cream in gigantic portions. They make their own, which is unique here, and they make it in "gelato-style". I feel like when you add the word "style" it just means it is an inferior copy. Think about the Jewish-style deli (maybe you can get something on rye bread) or Argentinian-style steak (just a big hunk of meat that because it is large is tagged Argentinian). The thing is, I just don't want a giant portion of anything mediocre.
Along comes Gelato on Duval, at 626 Duval Street. With the open storefront (literally, the doors slide entirely open revealing a case of luscious frozen goodness) and the same cups, spoons and take out containers that are used all through Italy, I had a feeling I was in for some good gelato. By the way, the difference between gelato and ice cream is that gelato is generally made with milk and ice cream is made with heavy cream.
Gelato on Duval does not make their own product, because, according to the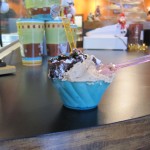 owner "I could buy product better than I could make it." He has never made gelato before, so starting to develop recipes would certainly delay the opening of a gelato shop. I, for one, am glad they did not wait. They spent a long time researching (read: tasting gelato) from various producers around the country and finally settled on someone in Michigan. The problem: the gelato-producing gentleman was not about to figure out how to ship his gelato to Florida. So, after securing their own shipping, and making sure nothing spends more than 24 hours in transit, we reap the cappuccino hazelnut benefits.
Other flavors include: toasted coconut almond fudge, pistacchio (you can tell it is good because it is not neon green) and triple dark chocolate. If it is too big of a decision, you can always taste a bunch of flavors before you narrow it down. Who knows – you may find that you like the marscarpone pistacchio caramel the best. The best part? You can have 2 flavors even in a small cup.