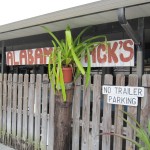 If you take Card Sound Road from Florida City to Key Largo you pass a number of people fishing, a cement company and Alabama Jacks. That's about it. Alabama Jacks is a bar/restaurant with good food, live music and, I learned, is biker-friendly. It is also essentially a dock overlooking water, where you will occasionally see the US Borders and Customs patrol go by.
On a recent drive, we happened by Alabama Jacks at lunchtime (OK, so it was 2:30 and we were holding out until we got there). The order: Smoked fish pieces, with the optional (and 25 cent extra) jalapenos, a blackened dolphin sandwich and cheese fries.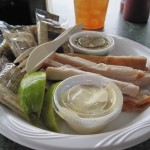 The smoked fish of the day was Wahoo. The pieces were flavorful and tender, not the least bit leathery, whole, not chopped up, served with mustard sauce and jalapenos. This is clearly the best bargain going for a mere $4.50 (including the jalapenos). Recommend.
The fish sandwich was also a solid version of the classic. Lightly blackened and served with lettuce, tomato and pickles, it was well cooked and delicious.
When I think of cheese fries, I am not sure what comes to mind – maybe it is the image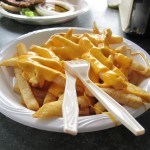 of Brewzzi in Boca's Gorgonzola slathered potato chips (which are outstanding, by the way), maybe it is my fictional version of crisp fries with actual cheese, such as cheddar, melted on top. Alas, these fries were slathered in Velveeta-type cheese food. The fries were crispy, the cheese just not terribly interesting. Next time I will get the plain fries, or if I am daring I will try the spicy fries.
On your next trip to the Florida Keys, take the scenic route, go Card Sound Road, it is worth the $1 toll, and you get to stop at Alabama Jacks.