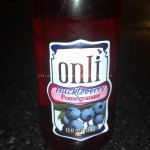 The people behind Onli drinks sent me a big box of samples last week. The only thing is, I couldn't (and kind of still can't) figure out if these are intended to be soft drinks or cocktail mixers. But I don't think it matters, as either way they are tasty. 
I was having some people over for drinks, so it was the perfect time to experiment. Included with the samples, are recipe cards for a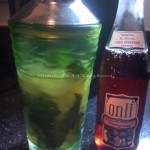 cocktail made from each drink. I hadn't gone grocery shopping, so I had to riff on their recipes based on the limited amount of edible stuff in my house. I started with the huckleberry pomegranate soda, and came close to the recipe (although I admit, I don't usually measure – it is much more fun to taste and make sure the proportions are right). Rum, mint, lime juice and huckleberry pomegranate soda made for a refreshing, mojito-esque beverage.
While it was good, for round two I decided to change it up. I went with the lemon watermelon soda, which was great on it's own, but to-die-for in the almost-margarita. Lemon watermelon soda, with tequila and lime juice, and some mint (hey, I had it in the house, so I had to use it, right?) was clearly the winning drink. It was perfect for a pre-dinner cocktail, but would also be good as a sip-by-the-pool-on-a-sunny-afternoon beverage, which I will undoubtedly be having this weekend.
There is also an espresso hazelnut flavor that I think I will be trying with my newly purchased Patron coffee tequila. Who says I can't kick my iced coffee up a notch, or three? Oh, and the best part about these drinks? You can buy them in the supermarket!