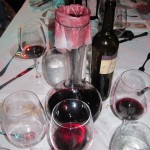 What started as two friends coming to visit turned into a full-on wine weekend. I had planned on having 2 people stay with us, and then 6-8 others in a hotel for our wine dinner Saturday. As it turned out, we did two dinners at exceptional restaurants with great wines and even better company.
Friday night, after margaritas at our place, we went to Blackfin Bistro on Duval Street. The eight of us brought 8 different wines to enjoy with dinner:
2001 Duckhorn Vineyards Cabernet Sauvignon Estate Grown
1997 Chateau St. Jean Cabernet Sauvignon Cinq Cépages
2006 Quinta do Crasto Touriga Nacional Douro
2005 Quinta do Crasto Douro Reserva Old Vines
2005 Louis Latour Volnay 1er Cru En Chevret
2001 Bodegas Valsacro Rioja Dioro Seleccíon J&D
2003 Celler Vall Llach Priorat Embruix
2002 Domaine des Baumard Quarts de Chaume
The most interesting part for me, wine-wise, was the two different Quinta do Crastos. These are Portuguese reds, both in different styles, by the same producer, each very good, but an interesting comparison nonetheless.
The food and service at the restaurant were outstanding and as I had only been there once before am looking forward to many return trips. Many thanks to Michael for his patience and flexibility.
Saturday evening brought a whole new set of wines, and a whole lot more overeating. We went to Azur on Saturday night and had the front patio to ourselves (fortunately for the other diners, as we were a pretty loud crew). The food, as always, was outstanding and Stephanie, our server, was unbelievably patient with us ("Can we have another decanter and another coffee filter please?"). As for the wines on Saturday, this was the lineup (along with Florida Keys Guy's minimal tasting notes):
2000 Trimbach Gewurztraminer Vendanges Tardives – excellent sweetness and acidity. We had a bottle of this last year (at Bistro Provence, in Boca) but I think this bottle was superior to that.
2006 Mer Soleil Chardonnay Barrel Fermented – only had a sip of this – not objectionable but I don't recall much about it. (FKGirl says: Nice wine, nothing exceptional, but a good white to start off the meal)
2006 Achaval-Ferrer Malbec Finca Mirador Medrano – wowsa – great nose, long finish, powerful delicious Malbec – one of my wines of the night.
2005 Kosta Browne Pinot Noir Kanzler Vineyard – Good showing for this wine, better than a lot of the KBs I have had recently.
1999 Justin Vineyard Isosceles – ok, not memorable
1997 Liparita Cabernet Sauvignon Vineyard Reserve Napa Valley – One of the bottles brought by our local friend, cork disintegrated, we had to decant using a coffee filter etc. – Was totally worth the effort as I thought this was an excellent bottle
2003 Concha y Toro Cabernet Sauvignon Don Melchor (Private Reserve)- never my favorite. I enjoyed this more than some prior vintages though. (FKGirl says: I never enjoy the eucalyptus flavors ever-present in Chilean Cabs. Find me a Chilean Cab without these flavors, and we will find one I like!)
2004 Glaetzer Shiraz The Bishop -FKGirl says: I liked this wine a lot – big and powerful, although I do not remember too much of the flavor profiles)
2004 Gagliole Colli della Toscana Centrale IGT
1977 Graham Porto Vintage – Not sure what the color was on this, ruby/amber maybe? Was kind of dark. Very enjoyable, not sure how much everyone else had, but I had multiple glasses.
I really loved the Achaval Ferrer Malbec, particularly because these are ready to drink so young. The Mirador is not going to last forever, so if you have some on hand, go ahead and pop a bottle, you won't be disappointed.
Overall, the weekend was a smashing success and I have a feeling that the next time we do this, we will have at least twice as many people come!