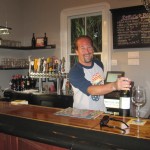 On the one hand, I am kind of horrified by a business hosting what is essentially a fundraiser in order to open. On the other hand, this is Key West, and it is a community of people that support each other, so rock on. Details of the Buy Your Own Barstool pre-opening dinner can be found here.
You have to know about The Porch because, at least when we were there, a sign was nowhere to be seen. Well, there is a tiny one right on the corner, but it's not so helpful, in my not-so-humble opinion. Key West's newest wine bar is located in the Joseph Porter House on the corner of Caroline and Duval streets.
Once you enter the building, you may need to stroll through what looks like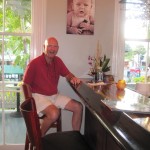 the door to someone's apartment. Behind door #2 is a lovely bar, with an interesting selection of wines by the glass or bottle and a great selection of beers. One thing I always like is when places uses appropriate stemware: I want my champagne in a flute and my red wine in a glass with a large bowl. The Porch seems to get this (of course, I did not order champagne, but I would hope they have flutes.)
While we were there enjoying a pre-dinner glass of wine, a woman came in and ordered some type of Framboise Lambic. When Grubby the bartender (it's a nickname, not a description) pulled out a large, wide mouthed goblet, the woman was horrified. "I can't drink out of that. How embarrassing." I goaded her into taking the goblet, and ultimately she even embraced it.
The selection of beer is great. The wine choices are well thought out, too. They do not serve food, but have delivery menus from several nearby places. Funny enough, they even have a porch overlooking Caroline and Duval streets, where you can sit and sip.
Stop by, it really is a wonderful addition to the neighborhood. With digs this good, I'm curious to see what they pull out for the Key West Wine and Food Festival this January.