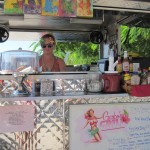 The food truck trend is sweeping the nation. Is it a good one? I think so. Granted, most of the time when I go out to eat I want to sit down and have some type of table service. I often need a steady supply of iced tea and I usually don't want to get it myself. Lazy? I think not. I get stuff for myself – and others – all the time when I am home. When I am out, I want someone else to do it for me. The food truck, however, is a really good happy medium. No fuss, just a quick bite and you are off to where ever you were going. I do kind of miss the never ending iced tea refills, though.Heidi, the owner of Garbo's Grill, a Key West food truck,  is a self-proclaimed foodie. This is not your ordinary food truck. It is always in the same location – no tweets to have to follow to find out where to get your fix today – the truck is always on Greene Street, across from Peppers of Key West. She makes only a few items each day, but the menu varies and is always fresh. One of her most popular items is the fish taco. There is usually some type of burger or sliders, and the day I was there she had an Angus hot dog.
The fish taco is ubiquitous in the Florida Keys. There is fresh fish everywhere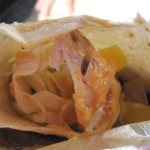 and most places think theirs is the best. Garbo's fish taco, however, is unique. The prepared to order taco is made with fresh mahi mahi, cabbage, mango and a healthy dose of fresh jalapenos all wrapped in a big, warm tortilla. The whole thing is served in an easy-to-eat, sandwich style taco. Big thumbs up.
I also had a pina colada iced tea, which was outstanding – and alcohol free.
Overall, Garbo's is a great stop for a quick bite. As the city made Heidi remove the chairs she had, your only seating option is by the harbor, on the ground or on some stairs. Take it to go or sit outside and enjoy a great meal. This food truck is a great addition to the Key west culinary landscape. Next, we need the city to allow her some chairs.