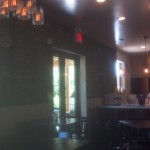 The latest restaurant from the folks that own the Hogfish Bar and Grill and the restaurant at Geiger Key Marina is Roostica, on Stock Island. Roostica feels like an Italian trattoria with it's casual atmosphere, simple menu and good food.
Key West is sorely lacking good pizza. We have Luigi's, which is absolutely fabulous for take out, as they have very few seats, and the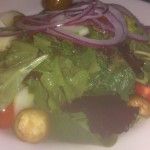 Sicilian pizza is to die for; there is Vito's, which after my last experience with them there will not be another; and since Bobalu's recent closing, that leaves Luigi's (which is great), but sometimes you may actually want to go out. Enter Roostica.
They have a great outdoor patio, which I am sure one day soon Babka will enjoy. The menu really consists of a few things: individual size pizzas with a whole bunch of topping variations, salads, and even limoncello chicken wings (which I hear are great). On Sundays they serve "Sunday Gravy", spaghetti and meatballs done family style.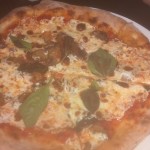 We started with an Italian salad, which was large enough for two of us, fresh and delicious. The addition of hot peppers makes everything, including a salad, better. We also shared a pizza (hey, it was lunch time and we already had a big salad), a margarita pizza topped with mushrooms. Everything from the crust to the bubbling cheese was fantastic, with one exception: there were only about 6 mushroom slices on the pizza. If I actually order a topping, please toss a whole handful on there! I don't want to have to go searching for them. The pizza is terrific, and the addition of a reasonable amount of topping would make it even more wonderful.
We were all ready to get back to work when our waitress asked if we wanted any dessert. It turns out, they have homemade gelato, which I just cannot turn down, especially when they had my favorite flavor, pistachio. The gelato was very good. I will say that for pistachio, there seemed to be a lot of almond flavor in the ice cream, but it was good nonetheless and I will certainly explore all of the flavor options eventually.  I should note that they also serve Nespresso espresso, so we knew that we were going to get  a perfect cup of espresso, instead of the grainy, bitter stuff I usually get in restaurants. Bravo for good coffee!
So, would I go back? You bet! Hopefully soon. Roostica is located on Stock Island at 5620 MacDonald Avenue and is open daily for lunch and dinner.