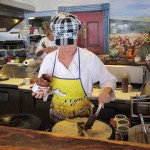 Blue Heaven is one of those place that has an eternally long line. You can wait an hour an a half just to sit down on a Sunday morning. Fortunately, just across the street is Le Creperie. Yolande Findlay used to have a little crepe place right on Duval street. When the building she was in burned down, she reopened on the corner of Petronia and Thomas Streets. You can sit at the bar (and watch the crepe-making happen) or sit at one of the charming outside tables.
On a perfectly sunny day, we opted for a table outside. A perfectly strong and creamy cafe au lait starts a wonderful meal. The menu is an assortment of omelettes, panini and, of course, many varieties of crepes. There are sweet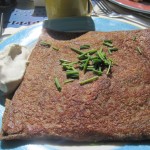 crepes: with nutella, fruits, chocolate and ice cream in many mouth-watering combinations. There are also many savory buckwheat crepes. As I had played four sets of tennis, I opted for the seemingly-heartier savoy crepe. I went with La Mexicaine with refried beans, avocado and cheese. It was spicy and perfecty cooked. Delicious.
Also at our table was a crepe with ratatouille (delicious) and a crepe with bechamel, spinach, mushrooms and cheese. You could taste the butter in the bechamel crepe, and it was spectacular. Heavy, yes, but oh-so-good.  One of our friends went with the sweet option of pears, chocolate, almonds and vanilla ice cream. He did not utter a single word while devouring the dessert-for-breakfast yumminess.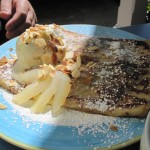 Le Creperie's crepes put Banana Cafe's to shame. The service is also better. I would choose Le Creperie one hundred percent of the time. If you are in the mood for a great breakfast without all the fuss of some of the other local places, give Le Creperie a shot. You will not be disappointed.