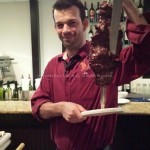 It takes a lot to get me to go to Downtown Miami, and in this case, it was an invitation from the folks at Steak Brasil for dinner. I am glad I accepted, as it was fantastic. This traditional Brazilian Rodizio (so traditional, in fact, that their website is entirely in Portuguese) offers a salad bar, a hot food buffet and nine kinds of meat served tableside. 
I know what you are thinking: Only 9 cuts of meat? The other places like this have 12 or 15! This is true, however,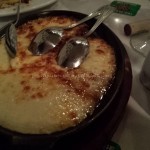 those "other places" also charge $48 – 55 per person. Steak Brasil is a bargain at only $25.99. The best part? It is really, really good.
We were greeted and shown to our table, offered the wine list and some snacks. The Brazilian cheese bread (I have no idea what it is called, but I know it is amazing) was outstanding and I believe there may have been a fight over the last one. Yes, I know we could have had more, but there was the salad bar, and the meat. Plus, there were also plantains (delish!), fried yuca (good) and French fries (only OK) brought out at the same time. After agreeing that those little round breads were the greatest things ever, we headed to the salad bar. Again, this is not the ginormous salad bar of some of the fancier places, but it is terrific. There are several cheeses, including a whole wheel of Parmigiano, blue cheese, Feta and mozzarella, a Caesar salad station, and about twenty other choices.   It was a perfect way to start the meal, while not ending up so full that I couldn't eat any of the meat selections. Of course, had I wanted more, I could have gone back over and over again.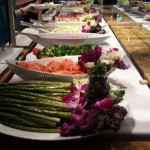 The space is very warm and cozy. It is not trying to be a fancy place, but rather a homey, friendly environment. It works. Tables are kind of close together (but far enough apart that the men wielding giant skewers of meat and huge knives can easily get to everyone) so ogling other people's food is pretty easy.
Sometime after we started on the salad bar and before we started on the meats, a plate of gooey, melted cheese showed up at our table. I happen to love cheese more than is socially acceptable, and way more than my waistline feels is acceptable, but I don't think that love is changing any time soon. Often when we go out with friends to Santiago's Bodega in Key West, we will start off ordering two Saganakis. By the time the meal has ended, sometimes we have had even more. Diet be damned. This melt-y cheese was really good, too.
But on to the meat. I have been to a few of these places before, like the now defunct Braza Lena in Key West, which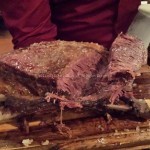 after eating there brought on a gall bladder attack. Fortunately, I am now without a gall bladder, so that cause for concern is gone. But, I always want to leave a meal feeling good, not over stuffed and over salted.
The quality of the meat here is impressive. Everything is really tasty, well seasoned and served at your preferred temperature. My favorite was the top sirloin. Also delicious were the chicken wings (lollipop style), and the beef ribs (which are an impressive presentation, with Flinstone-sized bones). I was able to leave feeling good about what I have eaten – no meat sweats, despite the impressive amount consumed. I have only myself to blame for being over stuffed.
But we could not leave without trying dessert. As the cart came around, I realized that they all looked good. (Note: desserts are extra, and not included in the buffet price.) My dad, normally one to bee line for the flan, decided to go with our waiter's suggestion of the pineapple coconut cake. Outstanding. There was a dollop of whipped topping (not actual cream – a pet peeve of mine), but that was easily avoidable while devouring the tropical treat.
Steak Brasil is located at 190 SE 1st Avenue, in Miami and is open for lunch and dinner daily. They also do an "Executive lunch" with a salad bar and choice of one hot dish, in case you don't have time to linger. Parking can be a challenge on the streets of Miami, so they have a deal with the Miami Tower garage around the corner. Make sure to get a validated ticket and your parking is only $1 for three hours. Go. It is well worth going out of your way to get here.