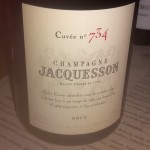 We have wine friends everywhere, so when out of town wine geeks make it south, we always try to get together with them. Last week, a lovely couple from New York came down to Florida, so nine of us got together at Il Mercato in Hallandale for loads of wine, tons of food and a good time.When the evening starts out like this you know it is going to be good: One friend takes the metal cage off the champagne cork and hands it across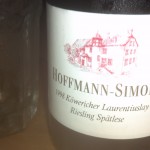 the table to another to open. After barely touching the bottle, the cork goes shooting across the table and the champagne is flowing. Nobody got hurt, but we all got a good laugh. The champagne was a NV Jacquesson Cuvee No. 734, which was yeasty and delicious.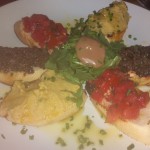 We started with a bunch of appetizers "for the table," including: duck confit; bruchetta with hummus, tapenade and the traditional tomato; truffle fries (you can never go wrong with truffle fries); and one of my favorites, spaetzle with gruyere (yum).
The white wines: 1998 Hoffmann-Simon Köwericher Laurentiuslay Riesling Spätlese, which in addition to being hard to say, was quite youthful. This did not taste like a fourteen year old wine to me. It was also less sweet than one would expect from a Spätlese; the other white wine was a 2005 Domaine de Montbourgeau L'Etoile Cuvée Spéciale, which is from Jura and I can easily say, not my thing. It smelled like sherry but had a huge alcohol taste. I think it would have been good with some super-stinky cheese, but anything else and I will pass.
Il Mercato offers many dishes in half or full portions so most of us took advantage and ordered an appetizer and entree. It was the day before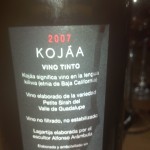 passover, so (don't judge me or my self-sabotaged weight loss efforts) I had a half order of papardelle with goat cheese and mushrooms followed by (yes, you guessed it…) penne arrabiatta. Other folks had the spaghetti carbonara or papardelle with veal bolognese to start and followed that up with a mix of fish (I forget what kind of fish it was, I was totally gung ho on the carbs), flat iron steak with malbec sauce or chicken schnitzel.
Naturally, with the meal there were a few more wines.  2003 Sociando Mallet, which seemed to be closed. Will it get better with time? Mayb, but the fruit was not very pronounced. 2004 Genium Priorat Costers Vi de Guarda was good and improved with air, but we had this wine previously and it was much better.  2000 Quilceda Creek Cab was a good, but not so memorable wine. This is clearly, in my opinion, not worth the $130 price tag on release.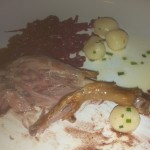 On the other hand, the 1990 La Conseillante was brilliant. Loads of tobacco flavors and a very long finish. This was my wine of the night, for sure.  We also had the too-you-but-will-be-great-one-day 2006 La Serena Brunello di Montalcino. There was a big improvement once this baby had some time to breathe. And for dessert, 2006 Silvana Garcia Jumilla Dulce Monastre.
In the midst of all this was a mystery wine. We like to torment each other with "mystery wines" which are often horrible examples or just wines from strange places. In the past we have had wine from Costa Rica (one of the worst things I have ever drank), wines from Bulgaria, Russian/Georgian wines and more. So, when our friend, who is Mexican, walked in with a bottle wrapped in foil, I immediately rolled my eyes and said "oh no, is that from Mexico?" He assured me it was not and we all tried it blind. We all really liked it, although nobody guessed what it was. I thought it was a Syrah, but it wa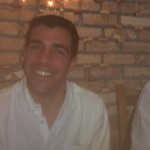 s in a traditionally Cabernet shaped bottle. Others guessed Central Coast Rhone blends and other oddities. But it was unanimous. This was a very good wine. What was it? Yep, I guessed it: Mexican wine. A 2007 Tres Valles Kojaa Petit Syrah. If this lovely bottle crosses your table, be sure to indulge.
It was a wonderful evening and I would be remiss if I did not thank the folks at Il Mercato for the excellent service and great food.