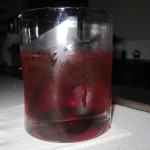 When my friends told me about Orchid Key Bar, in the Orchid Key Hotel, I was stunned. A hotel bar? That locals frequent? Are you kidding? Apparently not. From the street you would never even know it exists. Tucked away, through the parking lot and next to the pool is a tiny (6 stools) and beautiful (ecostone countertops – I had to know, so the guy sitting next to me texted the bar's owner to find out – and a glass tile bar. Behind the beautiful bar is always a friendly face.
The first time I was here was at Duval Uncorked, when we were a little late to the party. They were basically done when we arrived. Nonetheless, Nicole welcomed us in and poured us each a glass of wine with a "come back again soon". We have. Many times.
I first heard of their wonderful drinks, like the St. Germaine 75 (gin, lemon
juice, St. Germaine and champagne) here, from a reader, who commented that if I like the French 75s I made for a party, I simply must try their version. I tried one and, admittedly, I am hooked. Although it is a little hard to decide between the St. Germaine 75 and the outrageously good Bulleit Manhattan. They are well-known for their gin and (fresh, of course) juice (highly recommended).   Then there is the well thought out wine list available by the glass, or (as I have seen some already-drunken tourists…) a to go bottle, complete with plastic cups. Hey, they cater to the needs of their guests, and that is a big plus.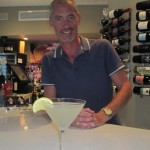 Orchid Key Bar was recently listed in the New York Times article 36 hours in Key West and for good reason. After a crazy week of several trips back and forth to the mainland, we were welcomed back by Andrew (who I had met all of one time previously) with a cheery "Hi! How was the wedding last weekend?" and a quickly-delivered Manhattan. And that, my friends, is why I love Key West.
If you need a break form the Sloppy Joe's crowd, try the Orchid Key Bar. If you venture behind the parking lot, it will be worth the minimal effort.