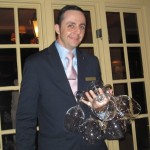 Friends of ours who live in Coral Gables are always trying to get us to go to their neighborhood for dinner. Usually, I weasel out of it and make them come someplace near us. But, last week after tennis (for FKGuy) and relaxing in The Biltmore pool (for me), we all had dinner at Palme d'Or, the signature restaurant at The Biltmore hotel.
The restaurant is very old school: the decor is fancy, the service is formal and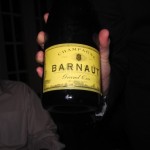 I loved it. We were greeted by the manager of the restaurant and shown to our table, where they had the bottle of champagne our friends had brought waiting on ice. (Our friends are wine geeks, too.)
Our waiter, who was a little on the snooty side (which I found to be hilarious) told us that the portions tend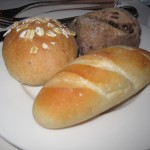 to be small, so it is intended that we each order an appetizer, fish and meat dish. There is no chance that I would be ordering three courses, so I opted for an appetizer and fish. The portions were more than sufficient.
Our table of four had several of the appetizers, including Le Trio (more on that in a moment), the mesclun salad with fresh goat cheese and smoked duck, which was reminiscent of a jerky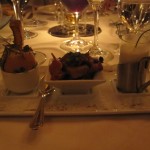 and the grilled foie gras.
"Le Trio" appetizer included organic truffled scrambled eggs (served in a perfectly hollowed out egg shell), wild mushroom ragoût and a fingerling potato "Potage". It was truly delicious and beautiful. I do have one complaint about the appetizer. It is listed on the menu exactly as I have described it. Nowhere does it mention the bacon that comes mixed into the mushrooms. As I don't eat bacon, that would have been a helpful tidbit prior to ordering. My friends enjoyed the mushrooms and I simply drooled.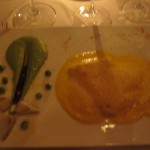 Side note to all restaurants: If you have things on your menu that are vegetarian, please inform the dining public of hidden ingredients that would make them not vegetarian. Thanks.
My second course was the braised lemon sole fillet served with English pea puree, sauteed baby artichokes and a carrot and cumin burre blanc. Everything is better with butter. The fish was cooked perfectly and the accompaniments were delicious.
Others at the table enjoyed the "deconstructed couscous" with lamb and sausage (although I didn't really get the whole "deconstructed" part…), and the buffalo tenderloin, which were both delicious.
We enjoyed both courses with a side-by-side wine tasting of the 2007 Clos Pepe Pinot Noir and a 2008 Domaine Giraud Pierre Chateauneuf-du-Pape, which is 100% grenache. I love that the restaurant manager was not only okay with us having the wine side-by-side, but encouraged it, even though it meant more work for him (more glasses at once on the table, having to keep track of which wine was in which glass.)
For dessert we had an almond cake with pistachio ice cream and strawberries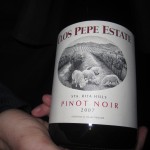 as well as some sort of orange cake thing (to me it tasted like baby aspirin) and an assortment of delicious truffles.
Overall, the meal was outstanding, the service was superb and the room beautiful. I highly recommend Palme d'Or for a special occasion or just a really nice dinner.