Grille 401 Las Olas is a large restaurant, complete with two bars, a private dining room, and an upstairs entertaining space.  Recently, they introduced a weekend brunch, including bottomless mimosas with a choice of Prosecco or Champagne. Animal lovers will love the Saturday morning Bark N Brunch. Bring your furry friend for brunch on the patio, complete with dog treats, toys, and fun. I recently had the opportunity to sample some of the brunch dishes, as well as other new menu items.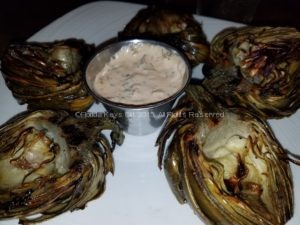 We were invited to a tasting dinner the other night, and I was impressed with what I ate. We all started with a Red Cougar, a vodka/strawberry/basil concoction that, despite my typical avoidance of vodka, was tasty. The fresh strawberries made the cocktail light and refreshing.
As we were settling in, our group of approximately twelve bloggers and other media types knew we were in for a treat since the menu looked outstanding. It would become an hours-long parade of yumminess. It reminded me of the old cruise days where waiters paraded around the dining room carrying baked Alaska. Only here, each dish was savory and delicious, and the entire parade of foods was all for us.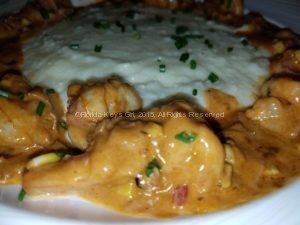 The restaurant happily accommodated my egg-avoidance, which is no easy feat at brunch, and I was most grateful. We tried a vast assortment of brunch dishes, including a steak and egg flatbread, shrimp and grits, crab cake Benedict and a steak Benedict. I skipped over the flatbread for the shrimp and grits, smothered in a savory Creole sauce. I am the first to admit that grits aren't a favorite of mine, yet I went back for thirds because these were creamy, buttery, cheesy and delicious. As for the Bennies? I ate them sans egg, but the ones with eggs looked nicely poached. The steak and crab cake were both good, but the fluffy, savory, homemade biscuits served with them made the whole dish.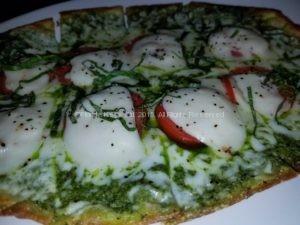 The next several foods served were flatbreads, and each one was superb. First up was the short rib, caramelized onion, and Gruyere cheese flatbread, and while it was good, I found it a bit heavy. (Of course, that could be because I had already indulged in grits, steak, crab cakes, and biscuits. Whatever.) Next, the barbecue chicken, chopped peanuts, cilantro, and onion flatbread was saucy and enjoyable. Then came the margarita and shrimp scampi flatbreads, both with a pesto base. It was tough picking a winner between the two, but I enjoyed the shrimp scampi the most. Starting with a layer of fresh, bright green pesto atop a crispy bread, then topped with sauteed shrimp, a healthy serving of garlic and Parmesan cheese. It was divine. I would go back and eat it again and again and again.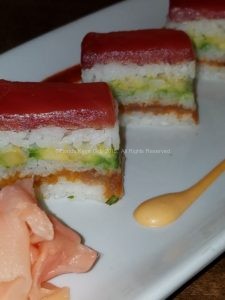 I was already full, but not to worry, I took one for the team and tried each of the other dishes that came out. (You're welcome.) The grilled artichokes were very, very good and are something I would get all the time. Plus, it was good to have some vegetables with this meal. Stacked tomato and mozzarella came next, complete with onions and balsamic vinegar. Light and refreshing, it is a perfect summer dish. (Or, you know, any-time-of-year-in-Florida dish.)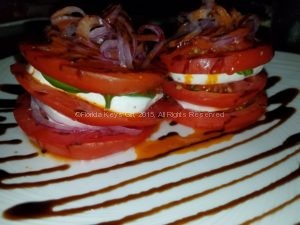 Veggie burgers were up next. Grille 401 makes theirs from scratch and serves them on challah rolls with Havarti cheese. They were splendid. But there was cedar planked salmon coming next, so I did not eat too much burger. Nicely seasoned salmon, cooked perfectly on the plank and accompanied by a tender, flavorful kale salad.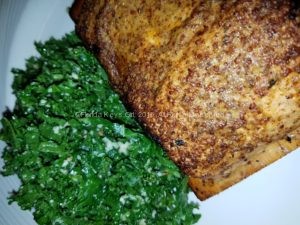 The final savory dish of the evening and my favorite was the Osaka-style pressed tuna roll. This sushi dish is layers of rice, avocado, spicy tuna, more rice and topped with a beautiful, fresh slice of tuna. An unexpected, yet fabulous treat at the end of the meal. After all, this is a grill with a varied menu, so I certainly did not expect outstanding sushi to come out of the kitchen. And yet.
I felt like I might explode at any moment; I could not eat one more bite. Well, except for a taste of the white chocolate bread pudding. And the freshly made whipped cream. I love real whipped cream, and can spot that fake stuff out of a can a mile away. This was the real deal. I know, I took the bowl meant for the entire table and refused to share.
Our meal was delightful, and I am already looking forward to a return visit to enjoy more of that tuna roll and shrimp scampi flatbread. Yum. Grille 401 is located at 401 East Las Olas Boulevard in Fort Lauderdale and is open for lunch and dinner daily, and brunch on Saturday and Sunday.