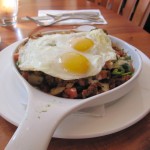 You didn't think the Chicago restaurant reviews would stop at one, did you? I had to eat the next day, too. We met friends that live in Chicago for a very early post-party brunch at Meli Cafe. I was overwhelmed by the sheer size of the menu. Crepes? Sure. Pancakes? Of course. Homemade empanadas? Yes. Juice bar the size of a small country? That, too. How we ever managed to make a choice on breakfast is a mystery to me. We indulged in eggs, empanadas, pancakes, juices, coffees and more. It was all good. Even better than the food was that they had put us at a big round table and generally left us alone except to refill the coffee. It was great. I would certainly go again next time we are in Chicago.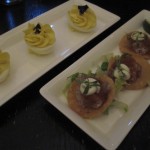 I had a list of places I wanted to go for dinner that night, starting with Topolobambo. Our last trip included lunch at Fronterra Grill and I was eager to try the "fancier" side. Much to my dismay they are both closed on Sunday, along with many other restaurants in Chicago. Who knew?
I found Sable Kitchen while perusing Open Table for available restaurants that Sunday evening. They are known for their cocktails, so naturally we had a drink at the bar before dinner. The array of spirits behind the bar is overwhelming. FKGuy had a Manhattan made with rye, while I had a to-die-for daiquiri. I had no idea what I wanted (a first) so the bartender chose for me. It was a good choice.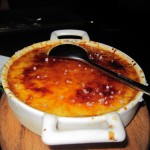 We were seated for dinner in the main room and to say it was noisy would be a major understatement (if you could even hear yourself talking). We asked to be seated at a table where we might actually be able to have a conversation and were moved to the back room, which was great. We had a private room until just before dessert when a party of 15 showed up.
I love how you can order a half order of most of the menu. It enabled us to try many things, so if something sounds good, it is not a big commitment to order it. Our meal included truffled deviled eggs. I make them, so I'm pretty critical of others. These were perhaps served a tad too cold, but were excellent.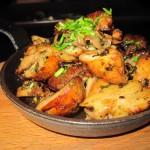 The tuna tostadas were fresh, tasty and terrific. Plus, they continued the theme of finger food. Ending the pick-up-and-eat-it trend was the sweet corn creme brulee. Corn. Creme. Brulee. Oh my goodness. It was everything you want in a dessert, while still being a main course. The salty and sweet custard was topped with a nice layer of burnt sugar. Whole kernels of corn completed the textural wonderland.
I also ordered the Hidden Valley wild mushrooms, which I was assured came from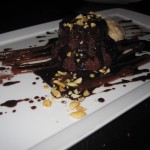 very nearby. They were sauteed with not too much butter and a healthy dose of salt. I hadn't had mushrooms this good in a while. The trend continued the following week with mushrooms from the Boulder farmer's market, but that is another story.
Finally, we indulged in dessert: dark chocolate souffle cake with peanut butter sauce and salted caramel ice cream. Yes, it was as good as it sounds.