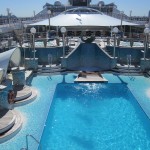 I had the opportunity to tour the MSC Poesia yesterday with a bunch of other travel agents while she was docked in Port Everglades. The cruise companies have these tours so that we can experience the ship and subsequently sell cruises. It was interesting, I'll say that.We checked in and waited in the lounge, just as passengers do before they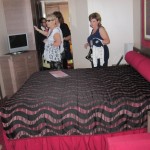 board for a cruise. We were escorted onto the ship in groups and given a full scale tour. Although MSC prides themselves on Italian service and hospitality, I did not see any Italian staff members. Our tour took us through staterooms and public spaces, ending with lunch in the main dining room.
The balcony cabins were good size with ample closet space, although the bathrooms were very small. The shower, in particular was simply a stall shower with no bells or whistles that one might normally expect. The inside cabin was tiny. It fit three people, although the third person would sleep in an upper bed that comes down from the wall, Murphy-bed style. The only problem here is that the third bed hung over the queen bed. I'd be a little uncomfortable with that. It is best to use these cabins for two people.
The pool area is beautiful with two pools, multiple hot tubs a giant screen for movies and a gelato bar (although there is an extra charge for that). I'm sure it could get crowded on good weather days, but it is truly lovely.
The bars, lounges and theater are all well decorated. One point: there are no drink holders or tables in the theater, so when you are watching a show food and drink are not allowed.
We ended the tour in the dining room for lunch. You know I am obsessed with food, so this is how I judge any ship. There were only about 100 people in the dining room, yet service was mediocre. I wonder how they would do with a full ship?
The food was good, not great. I started with a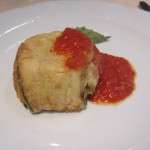 zucchini parmesan (quite good), followed by a roasted red pepper soup with mozzarella and pesto, which was also quite good. Main courses were a choice of fettucini with shrimp (other people at my table ordered this, but I did not see too many shrimp on the plate), a veal chop wrapped in pancetta (a very beige plate) or cod with pearl onions, which was my choice. It was okay.
The menu listed a cheese course and then dessert, but I was only brought the dessert sampler. It included tiramisu, rum baba and panna cotta. The tiramisu was my favorite of the three.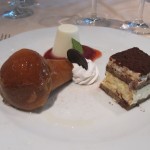 Overall, I felt the service in the dining room lacking. I was first offered still or sparkling water, and chose the fizzy stuff. Upon refilling my half empty glass it was filled with still water without asking. Oops. Food came to the table at different times (there were only seven people at the table) and the wait staff was difficult to understand and not terribly receptive of simple special requests. I would be interested to see how they do on an actual sailing, not just with lunch.