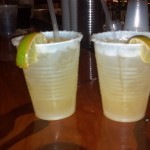 I had been meaning to check out the Smokin' Tuna since they opened a couple of months ago, but just did not have the opportunity. Then, last weekend, after I had registered for the Hog's Breath 5K, as we were making our way up Duval, we saw a guy outside advertising the Smokin' Tuna. Normally, I would have ignored him and kept walking, but he said the magic words… "You can bring your dog."  Babka loved the idea. I think they missed a naming opportunity here. Smokin' Tuna just begs to be followed by Saloon-a, right?
Smokin' Tuna is tucked away down Charles Street, where El Alamo used to be. It is just lovely. All outside, there are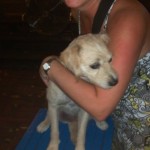 tables, two bars and a big stage. There is always live music. The night we were there, Scott Kirby was performing.
They have a full menu, including sandwiches, salads and an appetizer list full of bar favorites like jalapeno poppers. next time I will have to eat and will report back on how the food is. The atmosphere is lively without being annoying. The music is good, and the setting is inviting. I'm looking forward to my next visit.