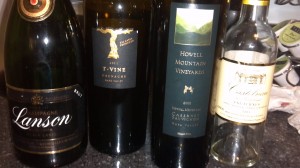 We kicked off our Saturday evening with good friends, good food and some good wine. A casual meal on the deck of salads, grilled steaks and chocolate lava cakes was topped off by Champagne (Lanson, Black Label, NV), T-Vine Grenache (2011), Howell Mountain Vineyards Cabernet Sauvignon (2005) and Castelnau de Suduiraut  (2003). After conflicting schedules, moves, and life getting in the way, we finally managed to get to have dinner with these friends. And it was good.
By Sunday morning we were playing tennis (trying to work off those lava cakes) and thinking about introducing Babka to our friends'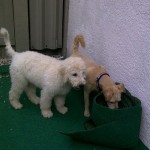 new Golden Doodle, Enzo. She already loves Enzo's big brother, Dobie, so I just assumed this introduction would be really easy.  We arrived to Enzo running outside to greet us, and once again I lamented not being able to ever have our dog off leash. (She is simply too interested in lizards, birds… pretty much any other creature, and not so interested in things like cars that are moving).  But we moved inside and Babka was a little intimidated by being double-teamed by both Enzo (about her size at 12 weeks old) and Dobie, who outweighs her by about seventy pounds.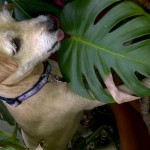 Her intimidation lasted about two minutes until she fled out to the backyard, with Enzo in tow, and the lizard-hunting, planter-jumping, running fest began in earnest. Enzo has gotten used to a laid back, Golden Retriever leading the way around the house, so he really didn't know what to make of this new creature jumping and running all over the place. He simply did what seemed natural: he chased her. And they were instant friends.
By the sound of things, you would think my weekend was all about the dog. While that was highly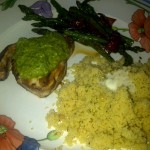 entertaining, our Enzo-chasing-Babka-fest did include dinner at our friends' house, which is always a good time. (Grilled local swordfish with citrus pesto, couscous and roasted asparagus, all followed by cheesecake).
This week will be work-filled, although some of that work will take place at The Reach Resort and Casa Marina, so I am really not complaining.