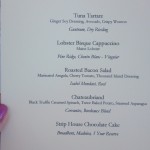 I was surprised when I realized that I have not yet reviewed The Strip House on the blog. I have been there a couple of times, and each time has been very good to great. This week, however, was a special occasion. 
I was invited, along with a few other bloggers, to experience The Reach Resort and Casa Marina, including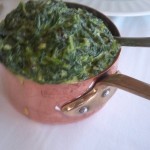 staying at the hotels, eating in the restaurants and generally having a good time. More on the hotels later, as today I am talking steak. The Strip House has a red velvet, nude-women-on-the-wall kind of decor inside. It is fine, but what really makes the ambiance is the outdoor terrace. It is overlooking the beach and just spectacularly beautiful.
FKGuy and I joined four other bloggers, as well as hotel management for dinner. While it was a set menu, they were very flexible with changes. (No salad dressing? Fine. No red meat? We'll get you fresh fish instead…) We started with tuna tartar with avocado, chili oil and crispy wontons, paired with Guntrum Riesling. The ten loud, animated people gathered for dinner immediately became a group of quiet, sedate people who could only utter one or two words ("yum" or "delicious").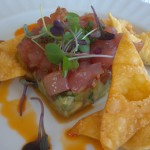 Next up in the five course tasting menu was a lobster bisque cappuccino paired with a Pine Ridge Chenin Blanc and Viognier. This was a thoughtful wine pairing, and an approachable wine for wine geeks and normal people, alike. (In fact, when one of my 3 Loud Women partners proclaimed she only drinks pinot grigio, I got a bottle of this for her to try. She loved it. ) The salad was billed as a "BLT" of sorts, with spiced bacon, micro greens and tomatoes in a thousand island dressing. I hear the dressing was good, but I have to tell you that thousand island is one of those things I just don't get. I don't like ketchup or mayonnaise, so marrying the two together really doesn't do anything for me.
The last two courses were the most outrageous. They were both served family style. Chateaubriand roast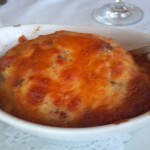 with bordelaise sauce, and side dishes of truffled cream spinach and a twice baked potato. I'm pretty sure there was a gratuitous green vegetable involved. First the spinach: I freaking love that you can take a really, really healthy vegetable and make it into one of the least healthy side dishes around. It is just delicious. I missed most of the conversation around me once the spinach was put on the table. (I know you think I am exaggerating here, but I assure you – just go and get the spinach then report back. It is that good.) Just as I thought the meal could not improve, I tasted the twice baked potato filled with cheesy goodness. It may have even been better than the spinach. Paired with the beef (and spinach, and potato) was a Cervantes red blend from Chappallet. It was a really good pairing.
I could not do a post on the Strip House and not talk about the chocolate cake. It is twenty four layers of cake-y, frosting-y goodness. I managed one bite of frosting after that huge meal. I am not sure how anyone actually eats twenty four layers. But it is a showstopper.
Overall, the whole experience was wonderful. If you are in Key West and want a great steak, head over to the Strip House and sit out on the terrace, even in inclement weather.