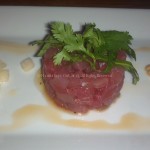 After a couple of truly abysmal experiences at the point 5 tapas bar, upstairs at nine one five, I was uninspired to try the downstairs restaurant. However, they have been advertising 50% off wines all summer, and I am a sucker for a good deal. I will clarify: it may not be as good a deal as it seems.
They have lowered the prices on some of the wines on the wine list, it is not a blanket discount on the whole list. (I am hoping that the Mark West Pinot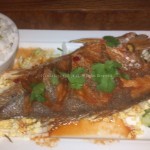 Noir at $30/bottle is not the discounted price, for example.) We opted for a bottle of Cubanisimo Pinot Noir, 2010, which was a good value at $35/bottle. So it takes a bit of effort, but there are some deals to be had.
As for the food and service, I will start by telling you that our service was attentive and friendly. The menu is a mix of things that try to be creative and old staples. There is a tuna appetizer on the menu, which is essentially a tuna and crab salad. But we opted for the tuna tartare special. It had pears, chili oil, cilantro and toasted pine nuts and sounded terrific. In reality it was fine. The tuna was fresh and tasty, but the whole dish lacked flavor. The crab cakes were fresh, loaded with crab and the avocado puree served alongside was inspired.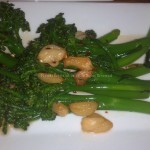 We shared the whole crispy yellowtail for a main course, which was delicious. The fish is served with rice, and over a bed of Napa cabbage with a chili sauce. The sauce was full of acidity, in a good way, and flavorful, and the cabbage added a bit of crunch to the whole dish. I would order this again in a heartbeat. We ordered a side of broccolini, served with roasted garlic, and the whole dish was really good.
Although we were too full for dessert, our waiter brought over two small chocolate truffles, dusted in cocoa. It was a nice touch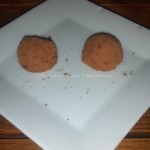 to have just a bite of something rich and chocolatey.
Overall, the restaurant was very good. While there are other places in town I prefer, I would not be opposed to going back. they are open for dinner every day, and located at 915 Duval Street.
Have you been to nine one five? What did you think?