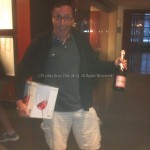 The first time we went to Chicago for a Cellar Diminishment Party was in 2007. At that time we were going to a party hosted by some fellow wine geeks, in their home, and we had never met them in person. Now, we go to Chicago every other year for a great party hosted by friends (same people, six years later). 
They buy too much wine, so every other year wine geeks from around Chicago (and several of us from elsewhere) gather for a wine tasting party. It sounds really fancy, but it is much like a kegger, only with great wine. Over the years, it has become my job to secure transportation from downtown out to the suburbs where our friends live. It has ranged from a limo style bus, to a full on tour bus (I didn't arrange that one…) to the more normal van for 12 – 14 people. But, one thing does not change: there is always wine aboard.
We brought a bottle of champagne (Canard-Duchene, Rose) which we promptly opened and enjoyed. Our friends, Paul and Stef also brought a bottle of bubbly (Gruet). Once the champagne was emptied, Paul handed me his bottle to open. There was no warning that it had been rolling around on the floor of the bus for twenty minutes. Naturally, as I opened the bottle, it erupted in a fountain of bubbles all over me. As I was seated, much of it ended up in my lap, soaking every bit of my dress and undergarments, and even soaking my shoes.
Although I wrung out my dress as best I could, and promptly removed my shoes upon arrival at the party, I was drenched. So when we walked in and I saw my friend Chris (who I haven't seen since the last party two years ago), she wanted to catch up and we started talking about all things Florida Keys Girl. Chris even asked FKGuy if he had brought emergency pants with him, and I lamented not having some emergency panties of my own. Alas, being dry is not necessary for having a good time.
The party itself was a blast, as usual. Good times with some old friends and new ones, too. I had the opportunity to taste two very different wines form the Monte Bello vineyards: Gemello Cabernet Sauvignon, 1960 (held up very well – delish!) and Ridge Monte Bello, 2002 (also delicious, but so young). I am already looking forward to the 2015 party (and will let Paul open the bubbly on the bus next time. Lesson learned.)