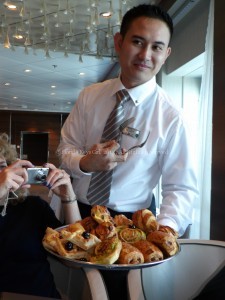 Choosing a cabin aboard a cruise ship can sometimes be a challenge (I'll dedicate another post on the subject in the future,) but for us, I knew we wanted a suite. Why? There is the issue of extra space, which is nice, but in my opinion not mission critical. Rather, Celebrity had just rolled out a new suite-only dining room, Luminae, and I wanted to try it out.
Our home for the week aboard the Celebrity Solstice was Sky Suite #9299, on the back corner of the ship. This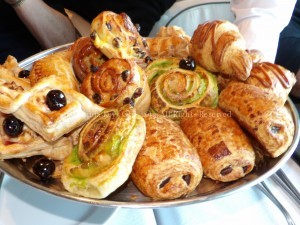 afforded us a huge balcony that could easily fit a dozen people, had it not been so cold out, a lovely marble bathroom complete with vessel sink and abundant storage space, and a large, 300 square foot room. The only odd thing about these rooms, is that some of them have metal structural poles. Ours had two, making for an interesting middle-of-the-night trip to the bathroom. But once we were used to their placement, it was a non-issue.
The food on the ship was, in general, excellent. I'll start with the Oceanview Cafe (buffet), since I know that is where most people eat while cruising. This buffet is set up with stations around a huge room. There is virtually no waiting in line and no high school cafeteria trays to lug around. During a typical lunch there is a carving station, a large salad bar, made-to-order stir fry, pizza, pasta, Indian food, and probably a hundred other things I am missing. Oh, and dessert. Loads of dessert. Everything that I had for lunch was very good, and I was especially impressed with the Indian food, which was not dumbed down, but offered a good, spicy curry.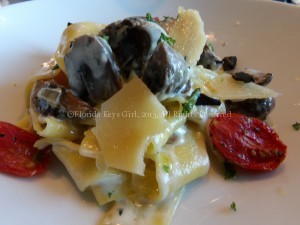 The breakfast buffet was equally impressive, including made-to-order omelets, fruit and an entire section dedicated to Asian Breakfast. I will admit, that it did seem odd to me to have garlic beef for breakfast. Until I tried it. Seriously, savory noodles topped with garlic beef is about the best breakfast I have had in ages. It was 9 AM and it was delicious. (Alas, I have recently learned that I cannot eat omelets or poached eggs, or really any other egg preparation, so having other breakfast options is quite helpful.) The best part is, if it doesn't work, or it is not something you enjoy, you are under no obligation to eat it.
I am not, however, advocating waste. Just simply saying that if you take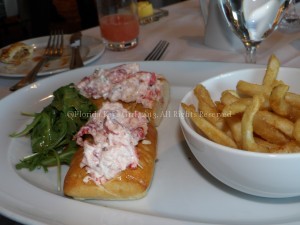 a small amount of something and don't like it, well, lesson learned. Get something else. Like the omelets. I hear they are delicious.
Another fun tidbit about the buffet is this: there is evening sushi. It is part of the dinner buffet, and on our cruise was available after 6 PM, but it made for a wonderful pre-dinner snack. Plus, the variety changed every day. Start the day with noodles and garlic beef and end with sushi. That, my friends, is a good day. Although it didn't end there…
Most of our meals were in Luminae, the suite restaurant, so we never had the chance to dine in the Grand Epernay main dining room, or in Blu, the Aqua Class dining room. First impression: it was very quiet, at least until our party of six had some wine. The room is beautiful, with adequate space between tables (although I know there are those that disagree with me on that one), and wonderful, personal service. Luminae had only been open for a few weeks when we boarded, so there were still a few details to work out. During the week we were onboard, they started using new glass top tables with place mats instead of the white banquet style tablecloths, as well as beautiful new chargers, stemware and even pretty new salt and pepper shakers. I was impressed by the attention to table top detail.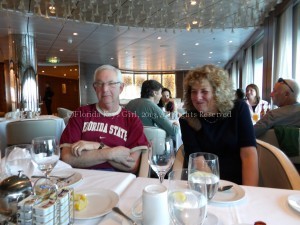 The service was friendly, and we were greeted warmly by everyone from the Maitre D', Linda, to our team of servers and the sommelier. We let Zoran, the sommelier, know that we had the premium beverage package and the wine began to flow. At brunch it was bottomless mimosas, at lunch it may have been a crisp Viognier, and at dinner it was an assortment of bubbly and reds. All served with a smile, and all in a constant state of being refilled. Overall, excellent service.
On sea days, Luminae was serving brunch from 10 AM – 1 PM. As we sat down for the first brunch we were greeted with a tray of pastries. I had heard about the dulce de leche croissants, so I was all in. Yum. There were also chocolate croissants, pistachio pastries and about seven other choices. Once I was happily getting crumbs everywhere, someone else came over with a try of donuts. Four kinds of donuts. From that point on, I referred to the lovely Diana, the bearer of the donuts, as El Diablo. Yes, I made the finger horns next to my head each time she passed by with that deadly tray, just tempting me to gain pound after delicious pound. For the record, the caramel ones were the best.
In addition to the endless pastries, bottomless mimosas (or wine, or coffee, or whatever you want,) there was an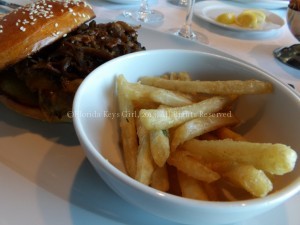 entire menu of food. Smoked salmon appetizers, omelets with asparagus, gruyere and black truffle, crepes, as well as lunch specialties like a cheeseburger with bacon onion jam, fish and a crab cake sandwich.
Lunch was only served once on our cruise, but I have been told that the restaurant is now serving three meals per day, regardless of port or sea days. That lunch, however, included lamb chops, so I was a happy camper. Pretty much anything that includes lamb chops will win me over without trying too hard.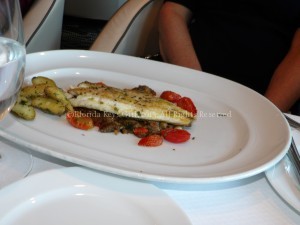 Dinner was the best of the bunch. While the "five course meal" might be a stretch, as that includes an amuse bouche, as well as a dessert amuse bouche. (Yes, you read that right: a pre-dessert. A little dessert before your dessert. And you wonder why I loved this trip so much.) Each night the main courses included a vegetarian option, a fish, poultry, meat and a pasta. Many nights the pasta sounded good, so I got that as an appetizer, sometimes in addition to a salad, plus a main course of either fish or beef or lamb. I can honestly tell you that it was all good. Although all of the proteins on board are frozen, they were thawed properly and expertly prepared. I don't think our party of six had any food complaints, which is something of a miracle.
What about the specialty restaurants? We did dine at Murano twice, but I think I have made you hungry enough for one day. More on Murano next time.