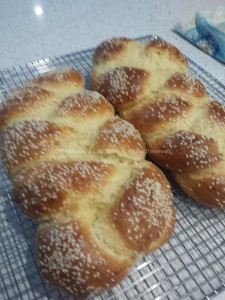 Once upon a time, I made a batch of cinnamon rolls. They were not good. I am pretty sure they sucked because I was afraid of making a yeast dough, and I am pretty sure the yeast sensed my fear. As it turns out, yeast dough is not all that scary. I have learned: don't fear yeast. I've also learned that Key West is an ideal place to be making yeast dough, as the warm climate helps it rise. Who knew? (Apparently a lot of people, but I was not one of them.)
In December, I attempted to make jelly donuts for Hanukkah, and while they could be improved upon next time, the dough actually came out quite good. I left it sitting on the counter to rise and generally ignored it for a couple of hours. When it was time to make the donuts, the dough had risen and was workable. The donuts were a little big and much of the filling had seeped out in the cooking process. Next time I will form the dough into round, mini treats, and fill them after the fact. Lesson learned.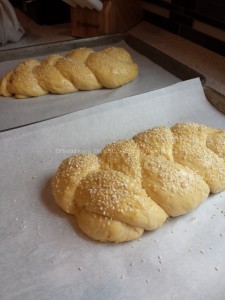 Last weekend, FKGuy's parents came for a visit. Friday night we had dinner at home, with pot roast (first time for that recipe, too), chicken, and homemade challah. I have officially overcome my fear of yeast. I still don't quite understand the difference between active dry yeast and instant yeast, but I have generally ignored that, and bought the active dry variety. Challah is a staple in Jewish homes, particularly on Fridays and holidays, so I was a bit concerned that mine would not be up to bakery standards. Fortunately, I had Michael Solomonov's recipe, which had already been tested out by my mom. (Sorry, it's only available in his cookbook, and I don't want to infringe on the copyright by sharing it.) The important thing to know is that the challah needs to rise twice – once when it is a giant blob of dough, and again after you form the braided loaf. As long as the second rise happens, you are good to go.
The recipe is filled with eggs, and it makes a huge bread. I decided to split it in two and make two smaller ones. Although it could have used a little more salt, and it may be even more delicious if made into one giant bread, my first attempt at bread making, excluding those times using a machine, was quite successful. I can't wait to enjoy some carbs and make it again, although that will likely wait until Rosh Hashana.
Meanwhile, I sent the leftover loaf home with our friends, who enjoyed perfect, mango topped French Toast the next day. Lesson learned: don't fear yeast; embrace it, and all the carb-y deliciousness it produces.