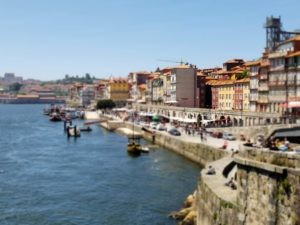 Portugal has become a super popular vacation destination. There are beaches in the southern part of the country. The capital of Lisbon is equal parts grit, local flavor, and historic charm. Also, it is the most affordable country in Western Europe. But Porto is special.
Our visit started by checking in to what would become one of my favorite hotels, Infante Sagres. Greeted by a friendly face and a glass of either dry white or pink Port, we dropped our luggage and headed out for some lunch. We returned to find out luggage had already been left in our spacious, light-filled room. (We also found a half bottle of Port and some chocolate cake. Yum!)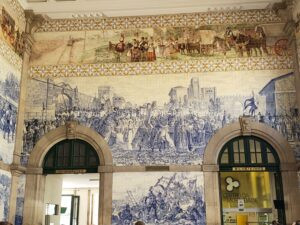 The entire historic center of Porto is designated as a UNESCO World Heritage Site, and exudes charm. From our hotel, it was a quick walk to the river, across which there is winery after winery after winery. Did I mention the wineries?  Porto also has a long maritime history, and was home to Henry the Navigator, who was responsible for leading expeditions, and contributed to the city's shipbuilding industry.
Now, Porto is a haven for wine lovers, sun-seekers, and other vacationers. It is quite hilly, so expect to walk up and down and up again, all within the span of a few minutes (also, taxis and ubers are plentiful if, like me, you simply cannot climb One. More. Hill.)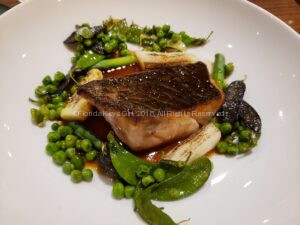 The Food
Our first day was  a blurry, jetlag-induced haze of strolling around and absolutely perfect fried fish for lunch on a gloriously sunny day. We capped off the evening with a perfect dinner at Almeja, located on a small street in the middle of the city. Creative food, excellent service, and careful attention to allergies made this a standout meal.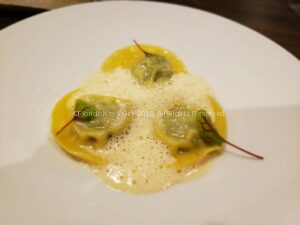 On the morning of day two, we met up with our friends who arrived long after we were asleep. We enjoyed a wonderful buffet breakfast at the hotel, followed by a walking tour of Porto. More hills.
A word about meals in Portugal: They almost all have cheese.
From the local cheese served at breakfast to the delicious wheels of cheese brought out at dinner with bread. There is always cheese, and it is universally amazing.
Our walk in Porto led us to beautiful squares, churches, and stunning vistas. Again, we did well with our meals, and had a terrific dinner at DOP, arguably one of the best restaurants in Porto. Even here, at one of the priciest restaurants in the city, the cost was much more reasonable than a similar quality meal in Miami or New York. We found food prices that ranged from reasonable to downright cheap, and all for wonderful meals.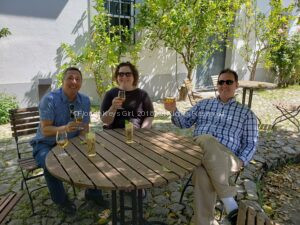 The Duoro Valley: A Perfect, Relaxing Day
We spent our last day in Porto gallivanting around the Duoro valley, starting with white port and tonic at one of the many wineries bought by Fonseca. We enjoyed a superb lunch, a river cruise, and ended with tasting Dow's and Graham's Vintage Ports and a 40-year tawny. I think it goes without saying that the ride back to Porto was very quiet, as we were all snoozing. (Yes, we had a guide and driver. No, I do NOT recommend that you go wine tasting and drive yourself.)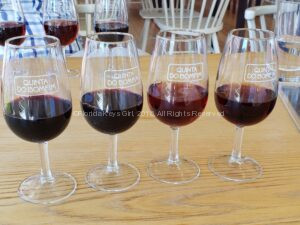 The final dinner in Porto is another one in the category of "downright cheap": Tapabento. This tiny restaurant covers two floors, with tables crammed in every which way. But the festive environment, and absurdly good food provided a standout meal. (Hello, impossibly fresh and tasty bruschetta, and outrageous sauteed organic mushrooms!). Service was good and the whole meal for four, with lots of wine and tons of food, was a bargain at about 100 Euro.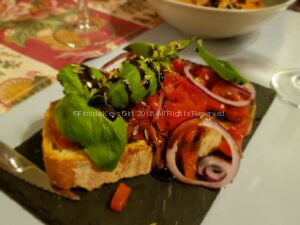 Pro tip: Make a reservation if you don't want to wait in line outside for hours. 
Porto is a wonderfully charming city with much to offer, and I am already looking forward to a return visit.