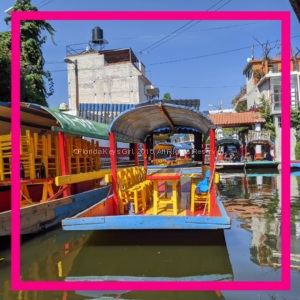 In the interest of full disclosure, I will tell you that Mexico City was not at the top of my travel list. It wasn't really even in the middle. I hadn't given it much thought, to be honest, until the pandemic vastly narrowed our travel choices. Mexico City is now at the top of my list of places to return – it is just that great.
Mexico City, or as it is known locally, CDMX (Ciudad de Mexico), is not only the capital, but a culturally rich destination with a great food scene. More on food later, as that is deserving of its own post. Today, I will focus on some of the great sights, especially ones that can be visited now, safely.
Casa Azul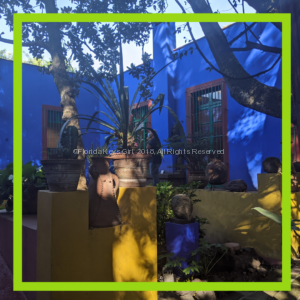 It seems that many people had never heard of Frida Kahlo until a very popular movie starring Salma Hayek came out nearly twenty years ago. Frida, and her twice-husband Diego Rivera, are synonymous with Mexican art and deeply woven into the culture. So, a visit to her house is an absolute must.
Casa Azul, the blue house, sits on a corner in the Coyocan neighborhood. Inside, stroll the gardens, and walk through the house to see many paintings, studio space, and an entire clothing display, among other works.  Pay special attention to the mirror above the bed, used for self-portraits while she was bedridden.
Pro tip: Due to the pandemic, you'll need to buy advance tickets for a particular time. Also, if you want to take photos inside, you need a pass costing 30 pesos (about $1.40).
Diego Rivera's Famous Mural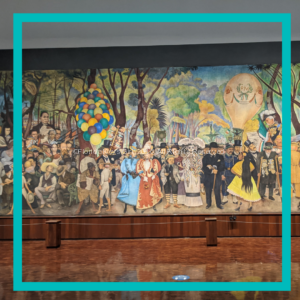 Speaking of Diego Rivera, Mexico City's most famous artist/muralist/womanizer, a visit to his famous mural is a must. Sueño de una tarde dominical en la Alameda Central ("Dream of a Sunday Afternoon in the Alameda Central")was painted and housed in Hotel del Prado's dining room since its creation in 1947. The mural was moved to a museum solely dedicated to the work after the hotel was destroyed.  (You can see a piece of the hotel wall if you peer behind the mural. Like me, you'll probably be yelled at by security.)
The work depicts over 150 people from all classes of society, including some of the leading characters in Mexican history.
Must see.
Pro tip: Towards the back of the room on the right side (when facing the mural) is a diagram explaining each of the characters in the mural.
The Canals of Xochimilco
Ok, let's get this out of the way: it is pronounced "show-chee-meel-ko."
Xochimilco is a designated UNESCO World Heritage Site. Here you can hire a trajinera (flat bottomed, colorful boat) to take you on a wonderfully relaxing cruise through what is left of a pre-colonial canal system. Xochimilco is a southern neighborhood of Mexico City. Truly, as you leisurely cruise through the waters, dogs barking, and laundry hanging, it is hard to imagine you are in a city of nearly nine million people.
During our cruise, our driver asked if we would like beverages, pulled up to a house along the canal, and brought out a bucket of beer and sodas. When I asked how much, he told me not to worry about it, we would just pay for what we drank. Fair enough. After about half an hour, we pulled back up to the same house, returned the unopened beverages and paid for what we had (about $9 for 6 or 7 beers).
Along the way, note the creepy island of the dolls (some may say "charming," I'm sticking with creepy) as well as the abundance of flora and native birds.
Museums, museums, and more museums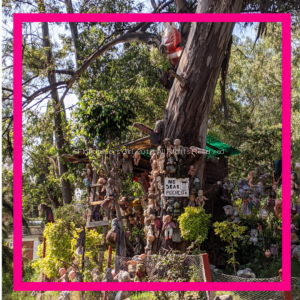 Much to my dismay, the famed Anthropology Museum was not open when we were there. In Mexico City alone there are over 150 museums, including the Bella Artes (fine arts palace), a contemporary art museum, modern art museum, and so many more. Hopefully, they will all start opening in the near future as I have several on my list for the next trip.
Teotihuacan
About an hour north of Mexico City lies the sacred pre-Hispanic city of Teotihuacan. (Pronounced tay-oh-tee-wah-kahn). The main structures are the Temple of Quetzalcoatl, and the Pyramids of the Sun and the Moon. In non-pandemic times it is possible to climb the pyramids. Fortunately for my clumsy self, that was not a possibility when we were there. Another UNESCO World Heritage Site, this one is also well worth a visit.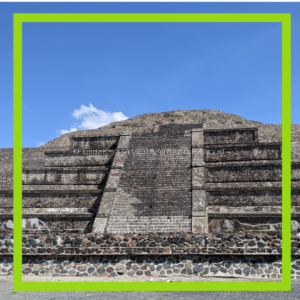 Expect to walk. A lot. From the entrance to the Pyramid of the Sun is almost 2 miles. Bring some water with you, as it gets hot in the sun.
There are so many more things to see and do in and around Mexico City, and I cannot wait to go back again. Are you planning to go? Intrigued? Want to talk about it? Let me know. We can plan your perfect Mexican Getaway for any size group.