It has been a good week for ship tours. Over the weekend (which seemed very early after Jack's birthday dinner) I had the opportunity to tour the Norwegian Dawn. NCL is known for "Freestyle" cruising, which means you can eat whenever you want and with whom you choose. There are two main dining rooms and a buffet, as well as specialty restaurants available for an additional charge. It is a really lovely ship.
The inside cabins are small, but serviceable for two people. I would not recommend them for three, even though there are upper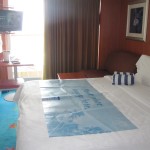 beds in many of them. NCL also has an abundance of balcony cabins on their ships. These are nicely decorated, standard cruise ship size rooms. They also offer a category of mini-suites, which are like the balcony cabins only larger. Often times I can get clients good deals on these cabins and the extra space is well worth the upgrade. For a real treat, book one of the suites with room to roam in addition to other amenities. (These are not for the budget conscious, though!)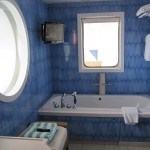 Public areas are lovely. There is poolside stadium seating so everyone can see the band playing in the middle of the pool, and get some sun. There are plenty of places to go on this ship: from the wine bar to the extra large casino, you won't be bored.
I perused the buffet, although I did not eat there, and the food looked good. We had lunch in Aqua, one of the main dining rooms. I passed on the pork spare rib, but had a goat cheese and potato gratin with salad, salmon in a mushroom cream sauce and, of course, the chocolate cake for dessert.
The salad was very good. I enjoyed my salmon, as it was prepared well alth0ugh a bit salty. My mom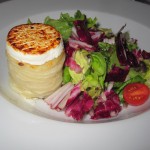 had the rib eye steak, which was cooked exactly as ordered. The chocolate cake topped with real whipped cream was outstanding. Not only was the food good, but service in the dining room was excellent. Our waitress was attentive and helpful. It is a very good sign for passengers on this ship.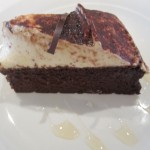 The daily program lists an abundance of activities for passengers of all ages. There is something for everyone on this ship. The best part? You can do it all at your own speed. Bon voyage!