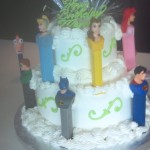 April has now become officially known (at least to me) as "50th birthday party month". May is shaping up to be "40th birthday month" but you'll hear more about that as it unfolds. A week ago I went to a birthday lunch for a very good friend. About 20 people gathered at Lola's on Harrison for an afternoon of good food, friends and a Pez cake. 
I had not been to Lola's since 2007 and was pleasantly surprised by how good the food was. Perhaps I will have to try it again for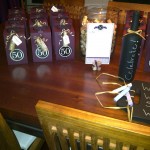 dinner one night.
This past weekend was a surprise party for one of my (many) wine geek friends. After seeing their home renovation on HGTV, I was anxious to see it in real life. It was incredible. We arrived around 7:30 PM wondering how in the world our friend managed to get her husband out of the house so she could set up, have the caterers do their thing and be ready for a bunch of people to show up. Apparently, he was working, then getting a haircut and thought she was having a few girlfriends over. He even picked out some wines for her to serve to "her friends".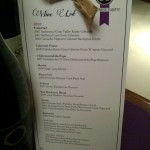 Between the bar setup (with lots of good wines) and passed appetizers, the evening was off to a good start. By the time the birthday boy arrived we were all enjoying ourselves. The surprise was a success. He was surprised by both the party and family that had flown in for the occasion.
Once our friend figured out that the party was, in fact, for him, he decided to start pulling out some wines
that  he really wanted to drink. The 2001 Beaucastel Chateauneuf du Pape and the 2001 Alion Ribera del Duero were highlights.
I know how to make good food and I know how to throw a good dinner party, but I am always impressed by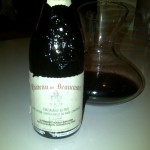 my friends that go the extra mile with a a creative touch. In this case, my friend took wine glasses, dipped the bottoms in chalkboard paint and left chalk for everyone to write their names on the glasses. It is a much more brilliant solution than wine charms. Plus, each glass was packaged with a souvenir wine-bottle-topper candle. Impressive, indeed.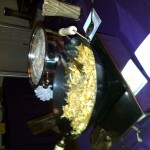 In the past two weeks we have celebrated milestone birthdays of dear friends. Next month will bring a milestone birthday for more friends, as well as FKGuy. All of the celebrations make me realize how lucky I am to have such good people in my life. I am looking forward to celebrating the next batch of milestones.