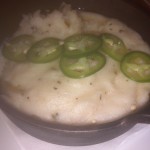 I had a hankering for the pain perdu at 2¢ for several weeks now, and for various reasons was not able to get there for brunch until last week. We were going to sit in the lovely outside garden, but the weather was bad, so we opted to sit at the bar. We perused the specials and, although they all looked good, I knew what I was ordering right away. 
I ordered the spiked lemonade, which is made with lemonade, sauvignon blanc, soda water and ice. It is really refreshing and a drink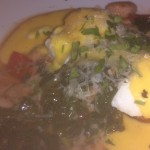 even non wine lovers would enjoy. FKGuy opted for the Jai Alai beer, which was also delicious, but I enjoyed my brunch-y beverage. We went to order and were told that they were out of the pain perdu. I had been craving the apricot cream and pistachio soaked goodness for so long. They couldn't possibly be out of it. And yet…
Instead I ordered the Toscano Benidict, which is nothing at all like the pain perdu, but still amazingly good. Poached eggs atop white beans, tomatoes and kale. Yum. We also had the special mushroom ragu which was mixed mushrooms and toast with a poached egg on top. It was divine. FKGuy could not resist the jalapeno grits, either. Being not from the South (South Florida is not the South), I am not a grit lover, but they had jalapeno peppers, so that was helpful. They were pretty good. Given the choice, I would always choose some other starch (bread, potatoes – both???) over grits, but that is just me…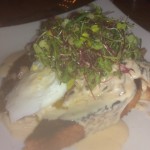 Once we annihilated our food, we were full and happy. Then the bartender came over with an order of banana monkey brains. It seems they are thinking of putting this on the menu instead of the pain perdu. These fried bits of dough mixed with bananas and caramel were delicious. But, (and this is a big one) I would never order it. It is very sweet and it is not breakfast, or lunch for that matter. I am curious to see what is on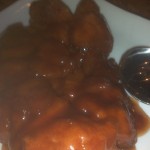 the menu next time we are there for brunch.