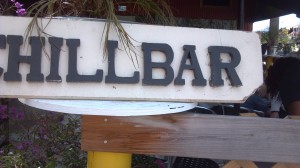 My friends had been raving about this place for weeks, so when we found ourselves in Hollywood one weekend, we decided to give it a try. (Well, it is not so much that we decided, as our friends calling and saying "We'll pick you up at 10. We are going to Chill Bar.")
The outdoor setting at the Yellow Green farmers market is lovely. There are plenty of tables, but they are not crammed in, and there is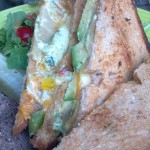 enough coverage to protect you from a light rain. The goal at Chill Bar is, well, to chill. Relaxation is the key here. Nothing happens too quickly, as all food is made to order. Even the coffee, a whole French press full of it, takes time to brew.
The menu here is eclectic, to say the least. From crab-stuffed mushroom appetizers to omelets, burgers and fish, there is a little bit of everything here. I had what was, quite possibly, the best grilled cheese sandwich I have ever had. This was more than two slices of cheese on bread. This was a couple of kinds of cheese, between three slices of bread, complete with avocado, pesto aioli and salsa, all on delicious bread. This was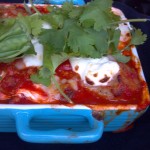 served with a three bean salad. It was also really messy, which, of course, is the sign of a good sandwich.
Also at the table, baked eggs in a tomato sauce with turkey sausage. Although the sausage may have been underdone in parts, the dish was huge, and eggs were cooked nicely. Stuffed mushrooms with a crab meat filling are listed as an appetizer, but it is a must-share item. The four huge mushroom caps would be a huge serving for a meal by themselves. They were also a big hit.
Salmon and eggs included a piece of fresh fish, a whole grain croissant (yum) and eggs. All good. The omelets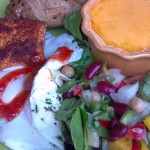 are fluffy and come with a variety of fillings, and also include the salad of the day (in this case, three bean) and a whole grain croissant with butter and jam.
The meal was slow paced and delicious. Don't go here if you are in a hurry – it just doesn't work. But if you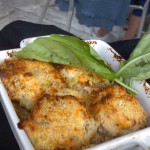 want a relaxing meal, it is worth a try. Chill Bar is open on Saturdays and Sundays at the Yellow Green Farmers Market at 1940 North 30th Road in Hollywood. The market is open from 8AM – 4PM, although the restaurant may stay open a little later than that.