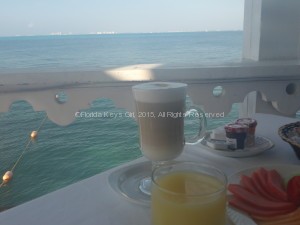 Beautiful beaches and relaxation is the image at many all-inclusive properties, and Zoetry Villa Rolandi is no different. My goal on this trip was not to do as much as possible, but rather to sit my tush in a lounge chair, poolside, with several margaritas. Sure, there is the option of swimming with migrating whale sharks, or swimming with dolphin just next door, or zip-lining, but it all seemed so exhausting.
Instead I focused my efforts on one thing only. Relaxation. It is not too often that we are free from the duties of daily life, like dog walking, laundry, dishes, and work, and I wanted to make the most of it.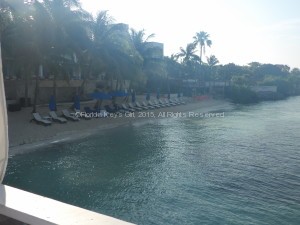 The property boasts three pools. One is a saltwater Thalassotherapy pool, much like a hot tub, one is a huge infinity pool with ledges to sit nearly all the way around, and the third is the "regular pool" which is warm, shallow enough to stand, and perfect for enjoying the water and a cocktail.
The beach is rather small, and with a lack of enough lounge chairs, although we did manage to find two empty ones one day for a couple hours. Unfortunately, there was a couple next to us hoarding chairs and side tables (you know, the people that leave one book or piece of clothing on several chairs and tables to stake their claim.) When I noticed these hoarders leave, fully clothed, and it was clear they would not be back for a while, I borrowed one of "their" tables. I moved a tube of sunscreen and dragged the table 2 feet over so we may have a place to out our margaritas.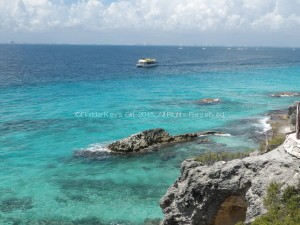 Not five minutes later, the fully clothed Clearly Miserable Dude leaves the restaurant, comes marching over, hands on hips, and begins yelling and cursing at me. How dare I move his precious tube of sunscreen? How dare I have the audacity to want to put my beverage somewhere? And how dare I have the nerve to sit on a lounge chair and relax, all while I have moved his tube of cheap sunscreen! I mean, really.
As the Clearly Miserable Dude was ranting, FKGuy stood up, casually strolled over to him, told him to stop talking (it is possible he wasn't quite that nice about it), handed him back his precious, plastic table, and asked him (again, perhaps not so nicely) to leave. Oh, and don't ever speak to us again, thankyouverymuch.
I can say this: the Clearly Miserable Dude and his Sourpuss Wife (hey, I would be sour too, if I married someone that dreadful) did, in fact, come back to their lounge chairs, nearly three hours later. As for us? I got a great deal of pleasure in sharing the story with others.
After Clearly Miserable Dude was out of our way, we took a tour of the pools and enjoyed the afternoon, cocktail in hand.
The one thing that can be improved at Villa Rolandi is activities. There is, quite literally, nothing to do at the resort, besides sit by the pool or beach. For us, that was a fantastic couple of days. During a longer stay, it may get a bit stifling.
We did set out for a walk, after our limited success with the bicycles, and made it to the Mayan Temple. As it turns out, the temple is about a 3 mile walk. Again, rent the golf cart, it will be much more efficient and you will not find your husband flagging down a taxi and, in Spanish, begging him to wait for us for twenty minutes. (FKGuy doesn't actually speak Spanish, not that mine is much better.)