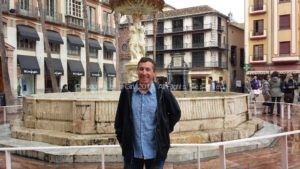 After a 9+ mile trek in Gibraltar, I was hell-bent on wearing sandals. There was no way I was shoving my feet in running shoes again for the day in Malaga. Big mistake. A dress and open-toed shoes are not appropriate rainy weather attire, especially in a city with a lot of slippery stone walkways. Nonetheless, stubbornness won out, and my feet were cold and soggy for the entire morning.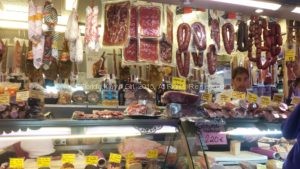 We exited the ship, parked at the dock closest to town, and I caught a glimpse of the pop-up Malaga Pompidou Centre. As we knew it was closed, we decided to stroll around and get a feel for the city before heading to the Picasso Museum when it opened at 10 AM. We wandered, window shopped (and found a great pair of shoes to return to check out further once the stores opened) and soaked in the ambiance of a city not quite awake yet. Much like in Key West, I love that time of day when everything is calm; shop owners are just getting started, and the city seems to let out a collective yawn in anticipation of the day to come.
Picasso was born in Malaga and the museum houses many of the great artist's works. It is a beautiful building with several galleries, although the organization made no sense to me. The works were grouped by theme, and not by date, leading to viewing works from the 1930s and the 1970s side by side.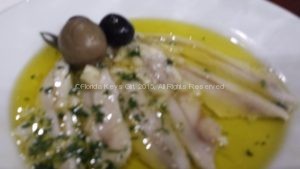 By noon, I was still contemplating the shoes I saw earlier, but instead of shopping, we made our way to meet some friends at McDonald's to start our food tour. Don't worry; it was just a meeting place, I didn't actually eat anything there.
We met our guide from We Love Malaga food tours for an afternoon of wine, tapas and good times. Our private tour for eight, set up by a friend of mine, began at the market, with an introduction to all local products including jamon, that crazy ham made from the black pigs that eat acorns (jamon Iberico de bellota), the fresh seafood and fruits. I was envious that I don't have a market nearby where I can shop the abundant (and cheap!) fruits, cheeses and seafood. Then I realized that if I did live near here, I would never get anything done besides grocery shopping and cooking. I could live with that.
From the market, we headed to our first tapas stop at a small, quiet restaurant, Lo Gueno. Each of the eight of us ordered two tapas, and we passed several around the table, sharing them all. I tried the anchovies in olive oil, and while I appreciate that they were good, I have made an effort to like anchovies, honestly, and I just can't seem to enjoy them. The paella was delicious, as were the meatballs, and after finishing our glass of wine, we headed to the next stop: Los Gatos. This small but lively restaurant is most known for their popular things on toast. I knew it would be a good stop for me.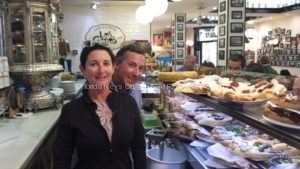 We moseyed back behind the counter to order. (Yes, behind the counter, basically into the kitchen, which I am happy to report was immaculate.)  It was a tough decision, but I can say that my choices of blue cheese and sun-dried tomato on toast, as well as mushroom and brie, were delightful. In my mind, there is very little in life better than cheese melted on bread, and this was no exception. Our server dropped off a bottle of wine for us, and when it was empty, replaced it with a full one. I wasn't sure we would make it to the third stop.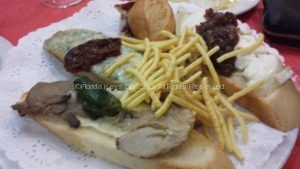 We proceeded on, full of bready, cheesy goodness, and a couple of glasses of wine, and headed for our next stop, the fanciest of them all, Los Patios de Beatas Vinoteca and Restaurante. At this restaurant and nicely appointed wine shop, the food and ambiance were both more upscale. As it was not peak lunch time, the restaurant was quiet, and we were able to enjoy a table in the middle of the main room. We started with mushroom croquettes (more of my favorite words!). Then we had a choice of some pork dish or miso glazed cod with coconut milk. I opted for the fish, and yet another glass of wine, and was not disappointed. It was delicious, beautifully presented and although I was full from the first two stops, I managed to eat the entire thing.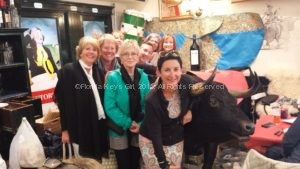 The folks at We Love Malaga made sure we got a good feel for the food of Malaga, a lovely tour of the city as we strolled from one location to another, and were well fed throughout the afternoon. I highly recommend the tour, and at 55 Euro/person (cash only), it is a great value. Bonus: our tour guide was in the way of a bird flying to a rooftop and managed to get hit with flying bird poop. That is good luck, right? Well, it had stopped raining for the day, so I would say we were pretty lucky.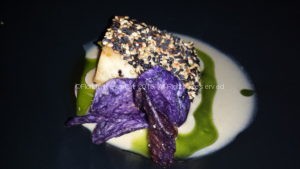 By the time we finished our tour, bought some of the bellota ham for our friends and were heading back to the shoe store, many shops were closed for siesta. Yes, they still do that. We happened by the shoe store to find that they reopened at 5 PM. Our all aboard time was 5:30 PM, so no shoe shopping for me. (Yes, I checked Zappos, and many other websites and still could not find them. Oh well. Next time we are in Malaga I will prioritize the shoe shopping.)