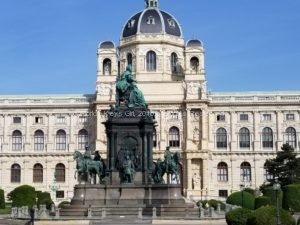 One of the highlights of a Danube river cruise is the visit to Vienna. Our Uniworld Enchanting Danube was no exception. Unlike many other cities on the Danube, here we docked about three miles from the center of Vienna, necessitating a shuttle into the center of town.
Vienna is known as the City of Music, but the art scene is unbelievable. Many passengers opted for the "Morning with the Masters," a signature Uniworld event held in the early, pre-opening hours of the Vienna Art Museum. Divided into groups, we meandered through the vast halls, exploring a few key pieces. This was not a thorough tour, as FKGuy noted when he exclaimed (in a stage whisper, to me) "So… we are just skipping right over that Picasso we just passed?"
Maybe the rest of the group did, but we managed to stop and see a few additional works by Picasso and Klimt.
After a quick walking tour, complete with an underground former bunker stop for a glass of wine, we excused ourselves from the group and continued on our own walking tour. Hotel Sacher, the home of the famous Sacher Torte, was the first highlight. Yes, there is always a line to get into the café, especially if, like us, you visit on a warm, sunny day.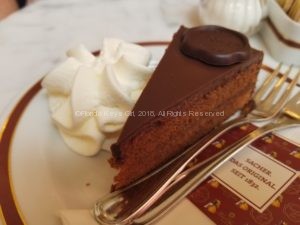 Pro Tip: Grab a slice of Sacher Torte
But it is worth the wait. The rich chocolate flavor, dense texture, and layer of apricot jam covered in even more chocolate, paired with a coffee or glass of champagne, is a perfect way to regroup for more walking later in the day.
Adding to our single-day highlight reel, the Naschsmarkt is Vienna's largest produce market, complete with food stalls selling all kinds of tasty treats. I always like to see the different food offerings any place we visit. Tasting is just as important as seeing the sights to learn about a culture.
Pro tip: Prinz Hazelnut Schnapps is worth seeking out.
(We purchased some at the Julius Meinl shop in the middle of the city.)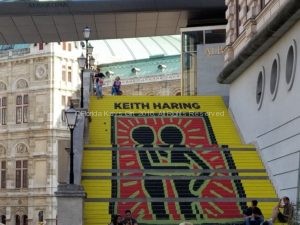 Alas, there is only so much one can eat or drink when the whole, art-filled city is waiting. Next stop: the Albertina Museum for an incredible Keith Haring exhibit. A glimpse of one of Haring's iconic dancing man images causes me a quick double-take, but happening upon an entire exhibit? Spectacular. Alas, we made it to the museum just an hour before closing. The skeptical woman at the ticket counter wanted to make sure we did not overstay our welcome. ("Are you sure you want tickets now? We are about to close." Yes, I am sure, and you are wasting time.)
We exited the exhibit, energized and ready for the next stop on our self-guided tour of Vienna. With plenty of time until the private classical music concert, walking to the venue became our choice. It was barely over three miles, and we had been on our feet since 8 AM, so this, somehow, seemed like a good idea.
You know what else is a good idea? Dinner. After a jaunt through the park, and past the University, we happened upon an Italian pizza place. Once seated, ordering became much easier upon realizing I could speak to the staff in broken Italian, and did not have to muddle through my lack of German.
Our sidewalk café dinner reinvigorated us for the rest of the walk. We made it to the concert venue well before the Uniworld bus and our fellow passengers.
See some music while in Vienna.
One cannot visit the city of music, without actually seeing any music, and this highlight-reel concert was perfect. I am not a lover of classical music (gasp!), but the show kept us entertained throughout.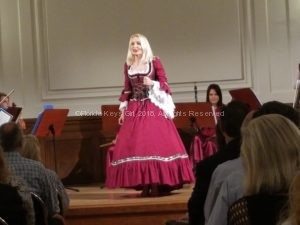 While I wish we had more time to visit other museums, and experience more of Vienna, a river cruise is a wonderful way to get a taste of its beauty and charm. Are you ready to talk about a river cruise? Get in touch!