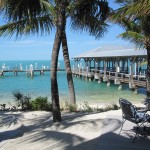 It was a picture perfect day, so I thought taking my parents out to Sunset Key for lunch would be a fabulous idea. I was wrong. It started easily enough: reservation made online at Open Table, boat tickets picked up at the Westin concierge, and a lovely seven minute ride to Sunset Key. We were greeted and escorted to the restaurant, where we were promptly seated and offered a beverage. Sadly, after this point the meal goes horribly wrong.We proceeded to order our meal: a couple of soups followed by an entree for each of the four people in our party. The soups arrive and are quite good. Once the plates are cleared, we are enjoying a lovely afternoon. About 20 minutes after our soups disappear, our waiter comes by to tell us that he has seen our order and the food should be out in the next 2-3 minutes. We had not said a word to him, rather we were just enjoying the day.
Another twenty minutes go by and finally (after not being able to flag down our waiter as he was nowhere in sight) our food arrives. You are waiting for the punch line, aren't you? Here it is: two of the four dishes were not brought as ordered. But there is more: once again the waiter was nowhere in sight.
I finally waved him down as he was leaving another table. Instead of coming over to our table to chat he leaned across the first table to have the conversation about our food not being correct.  He could not even be bothered to walk around the other table. That is certainly not a good sign.
I did not send my food back, as it had been well over an hour since we arrived for our 1:15PM lunch reservation and I was hungry. Rather,  I scraped off as much of the unordered sauce as humanly possible. Sadly, it was a little hard to undress my mother's salad. The two items that came as ordered were good.
Alas, the waiter was both unhelpful and unapologetic. When we had finished our horror show of a meal, the waiter came over to apologize, yet managed not to do so. I explained to him that I was displeased (to say the least) and he said "I know you are not blaming me". Actually, I was, and I told him so. He let us know that the manager knew of our issues, yet we never saw or spoke to said manager.
Our waiter's big consolation to us was that he would go ahead and give us the local's discount. Guess what, genius? I AM LOCAL, so that is not so impressive.
I left this restaurant never wanting to go back. It is a shame, as it is such a beautiful setting and they do have some decent food. When neither the management nor the staff cares about the customers, however, it is a recipe for disaster.