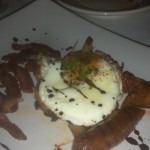 2012 marked the fourth year in a row that my cousin came to visit Key West over Thanksgiving weekend. This year, she brought her fiancé, and we had a great time. Naturally, the majority of what we were doing was what we enjoy most: good food and good wine.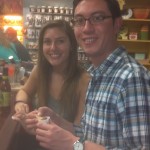 We started at Peppers of Key West, tasting through a whole bunch of hot sauces, and bringing a few home with us. Jason has been reaping the benefits of Alison's previous visits to Peppers, and has even requested specific sauces be sent home, but this was his first – and likely not his last – experience at the tasting bar.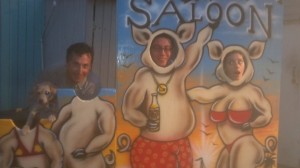 Dinner that night was at The Flaming Buoy, because all house guests must get a trip to the home of awesome food, great people and the spicy chocolate quesadilla.
The following morning, the motivated people got up and ran the Hog's Breath 5K Hog Trot. I was not motivated, but Babka and I did make it to the finish line long after most people had finished. Exhausted from our leisurely stroll over, and encouraged by someone that (a) ran a 5K pretty speedily and (b)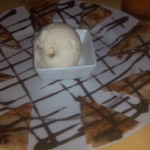 still apparently has some sort of metabolism, we stopped at Glazed, the donut shop on Eaton Street on our way home. I will go on record as saying this: Donuts are always a bad idea for me. They seem like a good idea while I am eating them, but then, later on, not so much. I had a bowl of soup for lunch.
Saturday afternoon brought the Florida-Florida State football game, and the rabid Florida fan that was
staying with us insisted that she watch it. So we went to The Commodore for happy hour. Loads of appetizers and even more beer, and I believe she was happy with the result of the game. I left happy hour(s) a little early to walk Babka, and get a little snooze in before dinner at Azur. Dinner with three people who have spent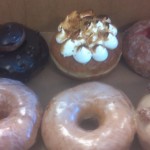 the previous four hours at various bars is always a good time. More wine for me. The food at Azur is the highlight of every houseguest's visit, and this was no different. Lamb, gnocchi, fish,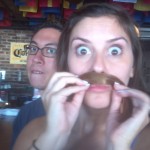 steak… yum and yum.
After dinner, FKGuy and Jason went home to walk the dog and go to sleep, respectively, while Alison and I went out for drinks. Lessons learned: Don't order drinks just because they are "the house specialty" and other people are drinking them. Yuck.
Between Sunday brunch at Blackfin Bistro (2 for 1 mimosas? Yes, please!) and happy hour including smoked fish dip from Easton Street Seafood, we were all beat and ready for an evening sitting on the couch eating pizza. I will be eating a lot of salad for the next 2 weeks.