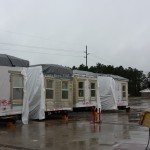 Having overindulged in mediocre pizza, we were in need of exercise Monday morning. FKGuy and I even brought cold weather running clothes with us. The pouring rain had continued through the night, but fortunately the Holiday Inn Express has a gym. Well, they have two treadmills, a stair climber and a bike all in the same room referred to as the "Fitness Center". 
By the half mile mark it was clear that neither one of us wanted to be there, and that our long pants and long sleeves were overkill for the indoor jog, but we persevered for a little while. When I couldn't take it anymore, it was time to shower, pack up our stuff and grab breakfast. I opted for a banana, and a bit of mediocre coffee, but really I just wanted to leave and go see our house.
We made it to Destiny Home Builders (since we were already in Moultrie, nothing was very far away) in about three minutes and began our tour. The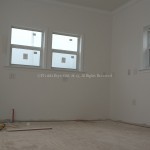 factory is humongous, and the assembly line is crazy. We did get to tour our house, which is currently in four sections, and are anxious for it to make its way to Key West and get finished.
By 10:30 AM, it was time to hit the road again and make our way south. It was still pouring. It was going to be a long day.
It seemed the best place to stop for lunch was going to be in Gainesville, where I had found Bistro 1245 in my pre-trip research. Not only was it still pouring, but it was cold, too, so the first order of business was an easy choice: a bowl of butternut squash bisque. Creamy, delicious and most importantly, warm, it was so creamy and delicious that we were fighting over the last spoonful. FKGuy chose the roasted chicken salad with spicy walnuts and gorgonzola, while I had the portabello sandwich sans bread, served over greens. The salad was tasty and the sandwich-turned salad was chopped potabello with sauteed peppers and onions and provolone cheese. I should also mention that prices were incredibly reasonable. Lunch for two, with iced teas and a large tip was about $29. We could not have asked for a better stop.
But it was time to get back on the road, and we were going to need some coffee, as we still had five hours to go. Trying to avoid the chains we stopped at Bay Island Coffee. Big mistake. Turns out, it is a stand in the middle of a parking lot which does not work well in the pouring rain. We pressed on until the rain ceased and there was a convenient turnpike rest stop. In the end we had Dunkin Donuts perfectly delicious coffee and did not have to get soaked in the process.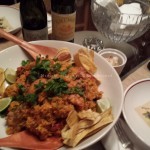 By the time we hit Palm Beach county, we had arranged to pick up Babka from our friends, and in working out a dinner plan, they offered to cook dinner, too. I feel very lucky to have such good friends (especially ones that can cook.)
The trip was a success, and although there was a lot of driving (we logged nearly 1,000 miles) and some chain pizza, we got to see our house in the process of being built, which was incredibly cool. It will be even cooler when it is done being built and I am relaxing on the back deck. To say that we are anxious is a huge understatement.