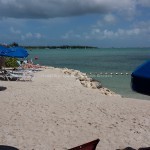 At the end of Simonton Street, in the heart of Old Town Key West, lies a small beach. Once populated with bums and not terribly inviting, it has been cleaned up, thanks in part to the crew at Lagerheads Beach Bar. The bar and water sports shack offers chairs and umbrellas for rent (or you can BYO at no charge), boat trips, and of course, some food.
We made our way there about a week ago, partly because nothing says "Happy Anniversary" quite like a frozen cocktail at 11 AM, and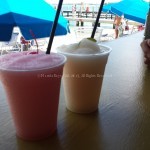 partly because we had heard good things about the fish tacos, and I am a sucker for a good fish taco.
The menu is small. In addition to the aforementioned fish tacos, they also serve a fish sandwich (which I think is really the same thing as the taco, with a different wrapper), hamburgers, hot dogs, veggie burgers, crab cakes and fish dip, as well as beer and frozen cocktails. We were pretty hungry, so we ordered the fish dip ($7) and then we each got an order of fish tacos ($12), a frozen margarita for FKGuy and a rum runner for me.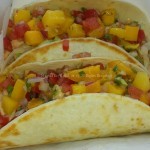 This is literally a shack with 6 bar stools under the roof, as well as several tables with umbrellas out on the beach. (No charge for tables, just lounge chairs).  But it is a wonderfully relaxed setting on a tiny, quiet beach. How was the food? It was good. The fish dip was too mayonnaise-y for me, and I wouldn't get it again. The tacos, on the other hand, were delicious. Nicely cooked and topped with mango salsa, the two-per-order tacos were a treat. The frozen drinks were good, too!
The question is always "would I go back"? You bet. I am already looking forward to the next visit.
Lagarheads is open daily from 10-6, and has live music weekend afternoons. They are located at 0 Simonton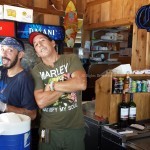 Street, and there is a public parking lot adjacent to the beach.