Royal Caribbean's Enchantment of the Seas recently began sailing three and four-night itineraries from Miami. Earlier in the week, I toured the ship and enjoyed lunch onboard. This 81,000-ton vessel can carry over 2,400 passengers across eleven decks, and is perfect for a quick getaway.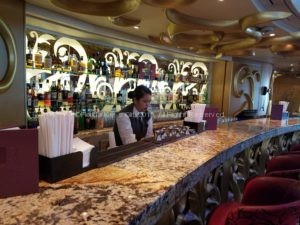 Short cruises typically are not aboard the newest ships, and this is no exception. Royal Caribbean, however, had done a fantastic job of creating an enjoyable atmosphere for any vacation, even a short one. Although the ship has seen many improvements over the years, the Enchantment of the Seas underwent a major renovation eight years ago. The ship went into dry dock and  more space was added, including over a hundred and fifty more cabins, by splitting the ship down the middle and adding a whopping seventy-three feet.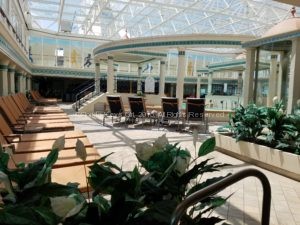 After the renovation, the Enchantment of the Seas now boasts an expanded pool area, including an adults-only solarium and Park Cafe, a rock climbing wall, trampoline bungees and an interactive fountain area for kids. In addition to the Park Cafe, Windjammer Cafe and My Fair Lady dining room, guests aboard can enjoy Chops Grille, a beautiful steakhouse or the Chef's Table, a nightly seven-course dinner complete with wine pairings. Have a sweet tooth? Stop in for a scoop at Ben and Jerry's, in the middle of the ship.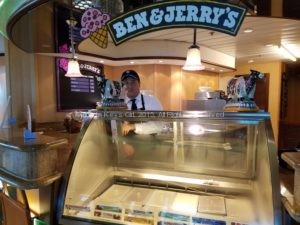 The staterooms have been refreshed as well, adding several lovely Junior Suites, Grand Suites and a handful of Family Suites that can sleep up to eight people, spread over two rooms and a living room. Even the inside staterooms seem spacious and inviting. Regardless of which accommodation you choose, the Enchantment of the Seas is a great choice for a short cruise.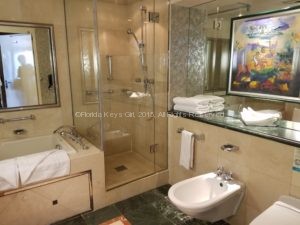 While aboard, our small group dined in the My Fair Lady dining room, for a wonderful multi-course lunch. I enjoyed a Caesar salad to start, while others tried the seafood salad (which looked delicious). Main courses were either chicken with cornbread stuffing, tiger shrimp with garlic sauce or eggplant parmesan. I chose the shrimp, and they were nicely cooked and did not skimp on the garlic. Yum. Somehow, I managed to avoid the freshly baked bread to dip in the sauce. (This whole diet situation sucks.)
Dessert was a beautiful lemon meringue pie. Some reported the pie as too tart and too lemony, but it is better than being too sweet, for sure. (Once again, I just took a picture of the pie and enjoyed a cup of coffee.)
Enchantment of the Seas is sailing to the Bahamas and Key West in rotating three and four-night itineraries. As always, if you are looking to book a cruise – or any other vacation – give me a call for the best deals and service.