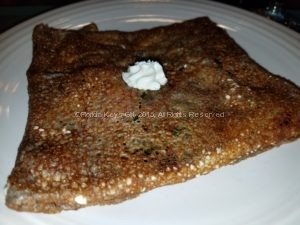 Always eager to try new (to me) places, FKGuy and I headed over to Key Plaza Creperie recently. Many Key West restaurants are turning out great crepes, including Le Creperie (I need a return visit since it was sold), Croissants De France, and Key Plaza Creperie. Why so many good crepes in Key West? Who cares! Rejoice in the buttery goodness.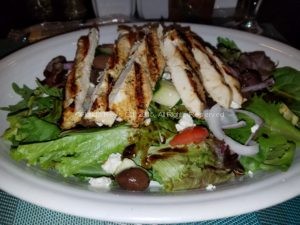 Key Plaza Creperie is in the Publix shopping center and is open every day for breakfast and lunch, until 5 PM. The extensive menu includes breakfast dishes, sandwiches, salads, galettes, and sweet crepes. FKGuy enjoyed a Mediterranean salad with Feta, olives, cucumbers and mixed greens, topped with grilled chicken. The fresh ingredients, combined with a delicious balsamic dressing, and a hearty portion, make us want to come back and try other things on the menu. Plus, with an ever-changing assortment of soups and specials, it is easy to find something new every time.
I enjoyed a galette, filled with goat cheese, spinach, and mushrooms. I added smoked salmon to the dish and enjoyed every morsel. In true Key West fashion, they do offer bottomless mimosas, but since we were driving, we opted for coffees instead. Next time.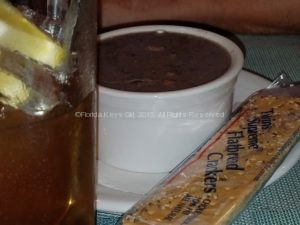 The staff at the Key Plaza Creperie go out of their way to be helpful. As soon as we sat down, I noticed the whirring overhead fan. I asked if it could be turned off, and the immediate response was "Of course. We are so sorry."  They were sorry I was uncomfortable, even for a moment, and that, my friends, makes everything better. The ambiance is reminiscent of an upscale diner, with tables and booths in a well-lit but soothing environment.
Key Plaza Creperie is worth a visit. Located well away from the bustle of Duval Street and downtown, it is a quiet, local-friendly location serving delicious food in a welcoming environment. You can find them at 1105 Key Plaza in Key West. The restaurant is open daily from 7AM until 5 PM serving fresh and tasty food.