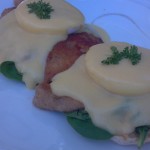 My friends have raved about the Sunday brunch at Martin's for quite a while, so this weekend we decided to give it a try. We arrived around noon and were seated in the back patio. There are a few seating choices: indoors in the dining room, out front watching the passers-by on Duval Street, the back patio and the center, lounge-y part complete with low tables and chairs. I liked our choice.
The menu is heavy on the Austrian and European influences, like the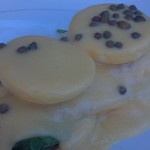 Weinerschnitzel Eggs Benedict, bratwurst and crepes. I opted for the Yellowtail Benedict, which has an English muffin topped with sauteed yellowtail snapper, two poached eggs, hollandaise and capers. The fish was nicely cooked and the dish was delicious. The eggs were perfect. In fact, they were a little too perfect. It was clear they use an egg poaching pan to get the eggs all perfectly round. I prefer mine to be a little messier and clearly done by a skilled hand. either way, they tasted good and that is what counts.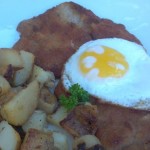 Also at our table were a Shrimp Benedict, a Weinerschnitzel Benedict and a Weinerschnitzel Holstein which was a veal cutlet, breaded and fried, topped with a fried egg and served with potatoes. The veal was nicely cooked and not too greasy. The hollandaise sauce was particularly light and not too overwhelming.
Service at Martin's was good. Overall, the experience was very good. Would I go back? Sure. Do I think it is the best brunch on the island? Not by a long shot. But that is just me.