Vito's is on White Street, across from Sandy's Cafe, and off the normal tourist path. Housed in a location that has seen several different incarnations in recent years, Vito's is the newest Italian pizza joint on the scene. I wanted to try it the minute I saw they were open. I knew from past inhabitants of that space that they have a wonderful garden, so if the food is decent, it would be a handy place to have nearby. 
We chose Vito's because (a) we really wanted pizza, and (b) I wanted something low-key and hassle free. We put Babka on her leash,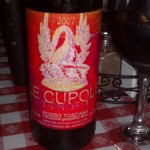 grabbed a bottle of Italian wine I had wanted to try, as they have a reasonable $10 corkage fee (Le Cupole Trinoro 2007, a recent shipment from Garagiste) and made the four block jaunt to the restaurant.
In addition to pizzas, loads of delicious sounding sandwiches and appetizers, the menu is very heavy on "pasta dishes" like veal marsala and chicken parmesan. Personally, I would like to have seen more pastas sans heavy meats on the menu, like a penne arrabiata or a nice ravioli dish. But, that could just be me.
We ordered an appetizer of broccoli rabe, a small pizza with mushrooms and garlic and a pasta with garlic and oil. It was to be a complete carb-fest. Fortunately for my waistline, our waitress (who was quite good) did not hear my pasta order and we were full after the appetizer and small pizza. The broccoli rabe was not at all bitter. It is a garlicky, oily plate of deliciousness.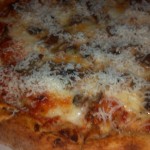 We had quite a lengthy wait for the pizza, as they only have one oven and a stack of delivery orders, but we were in no rush. The pizza is crispy and the sauce flavorful. Vito's is a necessary addition to the Key West dining landscape. There just aren't so many good pizza places here.  In my opinion, Vito's joins Bobalu's as a place to get a good pie.